Nambian-Cuban 'Noah's Ark' plan criticised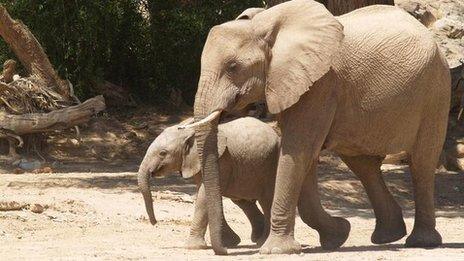 Plans by Namibia's government to donate 148 wild animals to Cuba have been criticised by an animal rights group in neighbouring South Africa.
They will have to endure long and stressful flights before being held in confined conditions, the NSPCA said.
But Namibia has promised the project, dubbed "Noah's Ark II", will be in line with the UN Convention on International trade in Endangered Species (Cites).
The animals include lions, elephants, rhinos, cheetahs and leopards.
Namibia, which fostered close ties with Cuba during its independence struggle during the 1970s and 1980s, is funding the $1m (£646,000) project.
The donation was agreed in 2009 during a visit by the Cuban President Raul Castro to the sparsely populated southern Africa country, which has great expanses of desert and game-rich grasslands.
The BBC's Frauke Jensen in Windhoek says the first animals were captured from the 40,300-hectare (100,000-acre) Waterberg Plateau Park, 280km (173 miles) north of the capital, this week.
They are destined for Cuba's 342-hectare National Zoological Park on the outskirts of the capital Havana, which is already home to around 850 animals.
The park's director, Miguel Luis Abud Soto, said the donation would improve its gene pool.
"Our government has set aside some millions for this project and the park underwent construction, remodelling and maintenance... they will be able to move around semi-freely," the Namibian newspaper quotes him as saying.
But South Africa's National Society for the Prevention of Cruelty to Animals said it regarded the move with "disgust".
"It is saddening to note that these animals will be taken out of their natural habitats and sent to a strange land where they will be deprived of freedom and be totally dependent on humans for their daily needs," the group said in a statement.
The first shipment to Cuba will be made in October.
Some of the other animals which will be making the journey are buffalos, hyenas, honey badgers, porcupines, kudu, bat-eared foxes, ostriches and white-backed vultures.
Related Internet Links
The BBC is not responsible for the content of external sites.