Kenyan aid workers seized in Somalia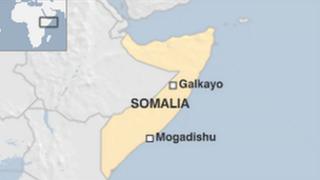 Three Kenyans working for a Swedish relief agency have been kidnapped by gunmen in north-central Somalia.
Their convoy north of Galkayo town was attacked and a Somali staff member was critically injured, the International Aid Services (IAS) said.
The region's interior minister told the BBC there were conflicting reports about the men's whereabouts.
Security sources told the BBC Somali Service the involvement of pirates in the abduction was suspected.
Galkayo straddles the border between the region of Galmudug and Somalia's northern semi-autonomous region of Puntland in a country riven by factional fighting.
Two decades of civil war has allowed pirates to flourish, especially off Puntland's long coast.
"The team was travelling in two vehicles including an escort car with three armed Puntland Police Officers who were overpowered by the attackers," IAS said in a statement.
Abdullahi Ahmed Jama, Puntland's interior minister, told the BBC two police officers were also injured in the attack.
Security forces across the region were tracking the kidnappers, who also stole one of the IAS vehicles, he said.
One security source told the BBC the Kenyans were being held in the well-known pirate base of Hobyo.