DR Congo: UN helicopter gunship fires on M23 rebels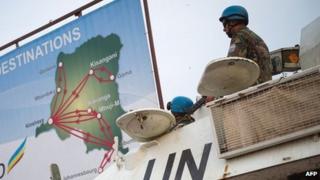 UN and government helicopter gunships have opened fire on suspected rebel positions in eastern DR Congo.
The attack against the M23 rebels took place north of the town of Goma, close to the border with Rwanda, the UN said.
Correspondents say that it is rare for the UN to go on the offensive, and appears to be a sign they are running out of patience with the rebels.
Last week, the rebels overran a UN base on the Ugandan border, killing one peacekeeper and forcing an evacuation.
The Tutsi-led rebels, who took up arms in April as part of a mutiny led by Bosco "Terminator" Ntaganda, began taking positions north of Goma approximately a week ago.
They have withdrawn from several towns they took over the weekend, but have threatened to retake them should civilians perceived to be aligned to them continue to be attacked.
The rebels are accused by the UN and Congo of being backed by Rwanda.
In a BBC interview, Rwanda's leader Paul Kagame reiterated that his country was not backing the uprising.
"We are not connected at all with the cause of the uprising of M23. We are not supporting them. We do not intend to because we don't know what they are about or what they want," Mr Kagame told BBC's Hardtalk programme.
The BBC's international development correspondent Mark Doyle says that, according to an eyewitness, three UN gunships and two Congolese helicopters attacked a position about 35km (25 miles) north east of Goma.
The witness said they attacked near Bukima village, firing rockets in three separate approaches.
Our correspondent says it is not clear if there is a rebel position at Bukima, but there are civilians in the area. There are reports, he says, that one farmer has been badly injured, possibly losing both his hands.
The decisive action could lead to an escalation of the war, he says.
Earlier, African foreign ministers, including from Congo and Rwanda, agreed that a regional force should be created to help fight the rebels.
The deal was made at an African Union meeting where the ministers noted there was little trust in the 19,000-strong UN force.
But it is unclear how the unit might operate.
Eastern DR Congo has been plagued by fighting since 1994 when more than a million Rwandan ethnic Hutus crossed the border following the genocide in which some 800,000 people - mostly Tutsis - died.