Sudan refugee crisis worsening, Save The Children warns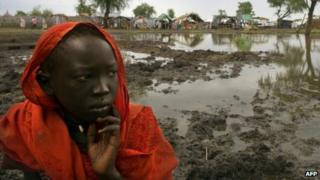 Save the Children has warned of an escalating refugee crisis in the border region between Sudan and South Sudan.
The charity said that fighting along the disputed border had led to a huge influx of refugees, with about 2,000 children arriving at crowded camps in South Sudan every day.
Violence has flared along the border since South Sudan became independent last year.
Aid agencies have warned of dire conditions in the refugee camps.
The medical agency Medecins Sans Frontieres said in early July that refugees were falling prey to disease because of "horrific living conditions" in the refugee camps.
It reported that mortality rates in the Jamam camp, one of three in South Sudan's Upper Nile State, were nearly double the threshold to be considered an emergency.
'Hungry and terrified'
Thousands of families are arriving at the camps each day "hungry and terrified after walking for days to reach safety", said Jon Cunliffe, Save the Children's South Sudan country director.
"People are coming just as heavy rains make it virtually impossible to access these areas to provide aid.
"The worst-case scenario is now a reality - we are witnessing a full-blown humanitarian crisis in one of the most remote places on earth."
Since South Sudan seceded from the north last year, conflicts have erupted in two border states where communities traditionally allied to the south found themselves north of the border after independence.