Unesco Equatorial Guinea Obiang Nguema prize 'shameful'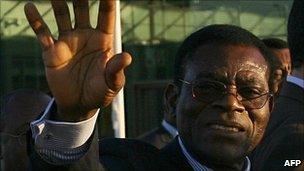 Human rights groups have denounced plans by a UN agency to award a science prize sponsored by Equatorial Guinea President Teodor Obiang Nguema.
The groups said such move by the UN scientific and cultural agency (Unesco) would be "irresponsible" and "shameful".
Unesco is expected to award the $3m (£1.9m) prize fund in Paris on Tuesday.
Mr Obiang is accused of rights abuses, rigging elections and corruption. The West African leader denies the charges.
In a statement on Monday, seven rights groups - including Human Rights Watch - criticised Unesco's plans to go ahead with the award ceremony in the French capital on Tuesday.
"It is shameful and utterly irresponsible for Unesco to award this prize, given the litany of serious legal and ethical problems surrounding it," said Tutu Alicante, director of EG Justice - another signatory of the statement.
"Beyond letting itself be used to polish the sullied image of Obiang, Unesco also risks ruining its own credibility," he added.
The award was first approved as the "Unesco-Obiang prize" by the UN agency in 2008, and oil-rich Equatorial Guinea was to finance it for five years.
But Mr Obiang's name was dropped in March following outrage by human rights groups and African intellectuals and writers.
The award is now officially known as the "Unesco-Equatorial Guinea International Prize for Research in the Life Sciences".
It remains unclear if President Obiang will be present at the ceremony in Paris.
Last week, a French judge reportedly issued an arrest warrant for his son, Teodorin Nguema Obiang Mangue, on money-laundering charges.
He denies the charges, while his lawyer says he enjoys diplomatic immunity as he is Equatorial Guinea's vice-president.
Human rights groups have previously described President Obiang as "one of the world's most infamous dictators".
They have been pressing the UN to identify the source of the funds used to sponsor the prize, saying it should be used for the education and welfare of the people of Equatorial Guinea, rather than the glorification of their president.
Equatorial Guinea's vast earnings from oil and gas should give its population of 600,000 people a theoretical income of $37,000 (£23,000) a year each.
But most Equatorial Guineans live in poverty.
The government of Mr Obiang argues that criticism of the country's leadership is misguided and that it is taking steps to better the lives of its citizens, including by building hospitals and schools.
Mr Obiang seized power from his uncle in 1979 and was re-elected in 2009 with 95% of the vote.
Related Internet Links
The BBC is not responsible for the content of external sites.