Mali Islamist rebels release European aid workers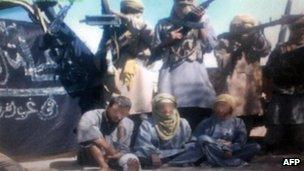 Islamist rebels in Mali have released three European aid workers who were kidnapped from a refugee camp in western Algeria last October.
The two Spanish workers and an Italian were seized from the Rabuni refugee camp near Tindouf.
Spanish and Italian diplomats confirmed the Islamist militant group Mujao had released the three.
Northern Mali has seen increased instability and an upsurge in Islamist rebel activity in recent months.
The Spanish foreign ministry said a plane would be flying out to soon to bring Spaniards Enric Gonyalons and Ainhoa Fernandez del Rincon and Italian Rossella Urru back home.
It is not clear whether a ransom was paid for their release.
A Tuareg rebellion in northern Mali triggered a military coup in March and in the ensuing chaos Islamist groups seized control of several towns in the north.
Earlier this week rebels released three Algerian diplomats abducted from the country's consulate in the town of Gao, but four others are still being held.
The groups are suspected of having ties to al-Qaeda's north Africa branch, known as al-Qaeda in the Islamic Maghreb (AQIM).