Africa's proverb of the day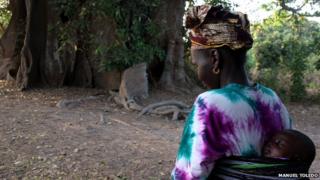 Proverbs are an integral part of African culture. Passed on from generation to generation for centuries, they are still in wide use today and are very much part of everyday speech.
Proverbs are used to illustrate ideas, reinforce arguments and deliver messages of inspiration, consolation, celebration and advice.
The great Nigerian author Chinua Achebe once wrote: "Proverbs are the palm oil with which words are eaten."
Please use the form at the end of this page to send in your wise words.
Some of your recent proverbs:
When a fire starts from the shrine, no precaution can be possible. Sent by Efitia Felix, Maracha, Uganda.
If beards signified intelligence, the goat would have been a genius. Sent by Nandom Wuyep, Bukuru Expressway, Jos, Nigeria.
When a monkey becomes old, it is fed by its young ones. A Bemba proverb sent by Maybin Mwila, Solwezi, Zambia.
Even if you dance in the water, your enemies will accuse you of causing dust. Sent by MacRester Zacarias, Blantyre, Malawi, and Kelvin Lumbwe, Ndola, Zambia.
A horse has four legs, yet it often falls. Sent by Akutser Aungwa Alfred, Makurdi, Nigeria.
Someone who refuses a brother's advice breaks his arm. A Somali proverb sent by Mohamed Salad Olow, Mogadishu, Somalia.
The child of the crab walks sideways like his mother. A Sotho proverb sent by Moeketsi John, Maseru, Lesotho.
It is not necessary to blow out the other person's lantern to let yours shine. A Swahili proverb sent by Beda Mushi, Dar es Salaam, Tanzania.
We share the same sun but not our homes. A Kalenjin proverb sent by John Limo, Nakuru, Kenya.
You won't last long, so leave a legacy. A Somali proverb sent by Sayid Ahmed M, Mogadishu, Somalia.
Had you known what bees eat, you would not have tasted honey. A Swahili proverb sent by Juma Kasika, Dodoma, Tanzania.
The house of a person we love is never far. Sent by Mokelifi Johnson ThankGod, Abuja, Nigeria.
You think of water when the well is empty. Sent by Agata Kassa, Addis Ababa, Ethiopia.
A set of white teeth does not indicate a pure heart. Sent by Amaka Cordis, Anambra, Nigeria.
One knee doesn't bring up a child. A Swahili proverb sent by Samuel Adjetey Cleland, Accra, Ghana.
One with lean meat or merely even just the skin is better off than one with mushrooms. A Shona proverb sent by Rudo Kubare, Harare, Zimbabwe.
When the bird which flies in the sky is about to die, its legs usually point to the ground. Sent by David A., Nigeria.
The fire screened by the elders does not burn. A Bemba proverb sent by Brandon Siliombe Libanga, Kitwe, Zambia.
One should first stab a hyena then aim for a lion. An Oromo proverb sent by Wandimmuu, Tajjoo, Ethiopia.
One who eats a guinea fowl does not start to look like a guinea fowl. A Bemba proverb sent by Boniface Mukosayi, Luanshya, Zambia.
Do not let the goat you might carry on your shoulder play in the mud. A Mende proverb sent by Mohamed Musa Barrie, Freetown, Sierra Leone, and Dac Samu, Toronto, Canada.
The grains of corn in a bottle get viewed with disdain by the hen. A Yoruba proverb sent by Ismail Olarinde, Nigeria.
The teeth of a dog do not lock together. A Swahili proverb sent by Annie Jordan, Moshi, Tanzania.
When the baby grows, the crying changes. Sent by F Tapon, Hillsborough, UK.
The mouth of an elder may stink but out of it comes wisdom. A Tonga proverb sent by Mzee Elvis Malambo, Lusaka, Zambia.
A short person hangs his bag where his hand can reach. An Igbo proverb sent by Unyime Esiet, Uyo, Nigeria.
Whether you touch it, or you eat it, it's still garlic. A Hareri proverb sent by Nebila Abdulmelik, Addis Ababa, Ethiopia.
When the hyena drinks, the dog can only look on. A Hausa proverb sent by Oguntoye Stephen Babatunde, Ibadan, Nigeria.
The cradle is rocked but the baby is pinched. Sent by Martin Misinde, Lilongwe, Malawi.
A calf doesn't laugh at a hornless cow. Sent by Olichey Don Gabriel, Bolgatanga, Ghana.
A wise person is the one who listens to advice. A Kikuyu proverb sent by Charles Kariuki, Nairobi, Kenya.
Your neighbour knows you are alive but only you know how you are living. An Oromo proverb sent by Nimona Benti, Finfinne, Ethiopia.
When building a house, don't measure the timbers in the forest. Sent by Abraham L. B. Freeman, Monrovia, Liberia.
Faults are like hills. You climb yours and then see other people's faults. A Hausa proverb sent by Bashir Mustapha, Kano, Nigeria.
A letter from the heart can be read on the face. A Swahili proverb sent by Stewart Omondi, Kisumu, Kenya.
The monkey thought he was a man until a fine shot brought him down. Sent by S. Kpanbayeazee Duworko, II, Brewerville, Liberia.
If the vulture fails to hover at the end of a sacrifice, then you know that something happened in the land of spirits. Sent by Mac Anthony Okpala and Chukwuma Okonkwo, Nigeria.
It is not changing into a lion that is hard; it is getting the tail of a lion. Sent by Alieu Conteh, Sierra Leone.
Evil enters like a needle and spreads like an oak tree. An Ethiopian proverb sent by Aster Assefa, Stockholm, Sweden.
---