Sanctions against Taylor's Liberian allies lifted by UN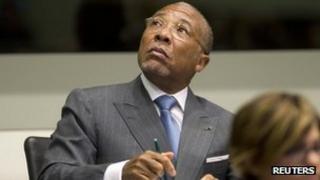 The UN Security Council has lifted sanctions against 17 Liberians linked to former Liberian president and convicted war criminal Charles Taylor.
The asset freezes and travel bans were imposed more than a decade ago in a bid to weaken Taylor while he was in power.
Taylor was sentenced to 50 years in jail by a UN-backed court in May for fuelling Sierra Leone's civil war.
Liberia's government welcomed the lifting of sanctions against the 17, who include two of Taylor's ex-wives.
"The lifting of the travel ban is welcome news for the government of Liberia," AFP news agency quotes the Foreign Minister Augustine Naguafan as saying.
More than 25 people remain on the sanctions list, including Taylor's son and arms trader Viktor Bout, the agency says.
'Fish in a bowl'
The BBC's Jonathan Paye-Layleh in the capital, Monrovia, says nearly all the people on the sanctions list were pleased with the decision, but the former chairman of Taylor's National Patriotic Party, Cyril Allen, struck a defiant and angry tone.
He said the sanctions should have never been imposed and he never "begged" for them to be lifted, even though he could never travel abroad to see his children.
Among those who no longer face UN restrictions are Taylor's ex-wives Agnes Reeves Taylor and Jewel Howard Taylor, former security adviser John Richardson and Adolphus Dolo, a key Taylor military ally who used the alias "General Peanut Butter", AFP reports.
Jewel Taylor told the BBC's Focus on Africa programme her international isolation meant she had to live like a "fish in a small bowl".
"It was quite difficult," she said.
"If I had a chance I'll probably go to Israel and praise God."
In April, the UN-backed Special Court for Sierra Leone found Taylor guilty of war crimes by backing rebels in diamond-rich Sierra Leone.
He became the first former head of state to be convicted of war crimes by an international court since the Nuremburg trials.