Mali's President Traore calls for talks with Islamists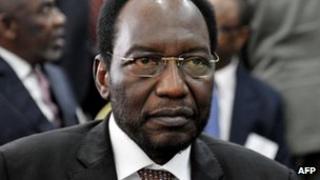 Mali's interim President Dioncounda Traore has called for talks with militant Islamists who have captured the north.
He made the call in his first national address after returning last week following a two-month absence.
He had been recovering in Paris from injuries sustained when he was beaten by supporters of March's coup.
Tuareg rebels and Islamist militants capitalised on the chaos following the coup and took control of the north.
But their uneasy alliance has since collapsed.
'Invaders'
The Islamists now control all three of the region's main cities - Timbuktu, Gao and Kidal. Thousands have fled the north.
Mr Traore said he would lead talks to form a unity government in Mali and would spearhead efforts to open dialogue with Islamists.
Malians should unite against "invaders", he said, referring to foreign jihadis who are allegedly operating in the north.
"Given the complexity of this crisis and the extent of the distress of our people from the north... we must together, I say together, clear the path ahead to free our country from these invaders, who only leave desolation, deprivation and pain in their wake," Mr Traore said.
There has been international condemnation of the Islamist fighters in the ancient city of Timbuktu where they have been destroying centuries-old shrines to Islamic saints revered by Sufi Muslims.
Their Salafist beliefs condemn the veneration of saints and they regard the mausoleums as idolatrous.
Mr Traore returned to Mali on Friday, with crowds of supporters lining the road from the airport to his residence.
Correspondents says there is high hope in Mali that this is not just a symbolic return.