Sipho "Hotstix" Mabuse finishes South African school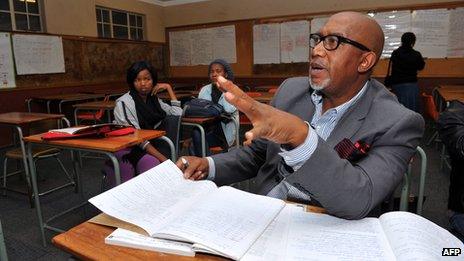 South Africa's President Jacob Zuma has praised top musician Sipho "Hotstix" Mabuse for finishing secondary school at the age of 60.
Mabuse enrolled in adult classes near his home in Soweto, Johannesburg, after dropping out of school in the 1960s.
"I needed my #matric to feel complete even with all my musical success. 45 years out of class is no childs play," he tweeted.
About 12% of South Africa's adults are illiterate, according to the UN.
Mabuse says he now intends to study anthropology.
"Now he's being inundated by universities who want him as a student," his manager Martin Myers is quoted by the AFP news agency as saying.
"You are indeed an inspiration to all of us by showing us that one is never too old for education," he said.
"We admire your tenacity, discipline and your zeal to succeed and wish you well in all your future endeavours."
Mabuse is one of South Africa's most popular musicians, having launched his career as a drummer with the soul group Beaters in the 1970s.
His "Burn Out" album was a big hit in the 1980s, selling more than 500,000 copies.
Related Internet Links
The BBC is not responsible for the content of external sites.