French judge asks UK to arrest Morocco Olympics chief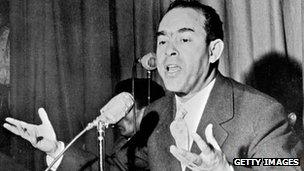 A French judge has asked British police to arrest the head of Morocco's Olympic committee in relation to the 1965 disappearance of Moroccan opposition leader Mehdi Ben Barka.
Judge Patrick Ramael has tried to have Housni Benslimane arrested since 2007.
The judge wants to question him, along with three other ex-soldiers, about the kidnapping of Mr Ben Barka in Paris.
The Moroccan embassy in London says Mr Benslimane was in the city last week for the Olympics, but has now left.
Although Mr Ramael issued a warrant for his arrest five years ago, it is no longer in force, as neither French prosecutors nor Interpol have endorsed it, AFP news agency says.
Mr Benslimane is not known to have commented on the case.
Mr Ben Barka was an outspoken critic of Morocco's late King Hassan II.
The exact circumstances of his disappearance are not known and his body has never been found.
In 2001 former members of the Moroccan secret service alleged an ex-interior minister had been involved in a plan to assassinate him.
Mr Benslimane, who is now 77, was an army captain in 1965. He is also the former head of the Moroccan Football Federation.
Related Internet Links
The BBC is not responsible for the content of external sites.