UN agrees aid flights into Sudanese rebel held areas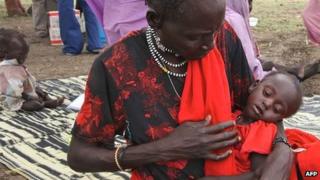 An agreement has been reached to allow aid to be flown into the South Kordofan and Blue Nile regions of Sudan, where hundreds of thousands of people are critically short of food.
The UN, African Union and Arab League signed the deal with SPLM North rebels.
But one senior rebel leader, Yassir Arman, told the BBC that the flights required Sudanese government approval.
Mr Arman said permission for aid to the two areas had been blocked by Khartoum for nearly a year.
The agreement was signed in the Ethiopian capital, Addis Ababa late on Saturday.
It calls for the immediate establishment of an assessment team to produce a report on conditions in Blue Nile, and in the Nuba Mountain region of South Kordofan within two weeks.
The SPLM North has agreed to an immediate cessation of hostilities to enable the assessment to take place and for the aid flights to get under way.
Tens of thousands flee
Mr Arman said that between 300,000 and 400,000 people were in urgent need of aid.
But he told the BBC: "A cross-border operation from Ethiopia and South Sudan would have been more effective than this operation.
"This agreement puts the issue of access and sending assistance in the hands of Khartoum, and this is the main weakness of this agreement."
The BBC was unable to reach the Sudanese delegation in Ethiopia for comment.
Tens of thousands of Sudanese have fled across the border into South Sudan to escape hunger and fighting.
Mortality rates in one refugee camp in South Sudan, Jamam, are nearly double the threshold for an emergency, the aid group Medecins Sans Frontieres has warned.
This means that about eight children are dying every day in the camp, which houses about 40,000 of the 120,000 people that have fled the conflict in Blue Nile state.
The medical charity said people were dying of preventable diseases because of "horrific living conditions".
Latrines have overflowed, contaminating water sources, because of heavy rains.
South Sudan seceded from Sudan a year ago - as part of a deal to end years of civil war.
Both Sudan and the South are reliant on their oil revenues, which account for 98% of South Sudan's budget. But the two countries cannot agree how to divide the oil wealth of the former united state. Some 75% of the oil lies in the South but all the pipelines run north. It is feared that disputes over oil could lead the two neighbours to return to war.
Although they were united for many years, the two Sudans were always very different. The great divide is visible even from space, as this Nasa satellite image shows. The northern states are a blanket of desert, broken only by the fertile Nile corridor. South Sudan is covered by green swathes of grassland, swamps and tropical forest.
Sudan's arid north is mainly home to Arabic-speaking Muslims. But in South Sudan there is no dominant culture. The Dinkas and the Nuers are the largest of more than 200 ethnic groups, each with its own languages and traditional beliefs, alongside Christianity and Islam.
The health inequalities in Sudan are illustrated by infant mortality rates. In South Sudan, one in 10 children die before their first birthday. Whereas in the more developed northern states, such as Gezira and White Nile, half of those children would be expected to survive.
The gulf in water resources between north and south is stark. In Khartoum, River Nile, and Gezira states, two-thirds of people have access to piped drinking water and pit latrines. In the south, boreholes and unprotected wells are the main drinking sources. More than 80% of southerners have no toilet facilities whatsoever.
Throughout the two Sudans, access to primary school education is strongly linked to household earnings. In the poorest parts of the south, less than 1% of children finish primary school. Whereas in the wealthier north, up to 50% of children complete primary level education.
Conflict and poverty are the main causes of food insecurity in both countries. In Sudan, many of the residents of war-affected Darfur and the border states of Blue Nile and South Kordofan, depend on food aid. The UN said about 2.8m people in South Sudan would require food aid in 2013. The northern states tend to be wealthier, more urbanised and less reliant on agriculture.