Kenya judge Nancy Baraza should be sacked - tribunal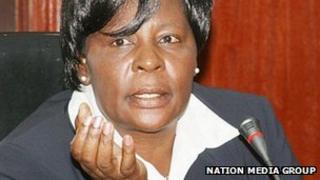 Kenya's deputy chief justice should be sacked after she was accused of threatening to shoot a security guard, a tribunal has recommended.
Nancy Baraza allegedly pulled her pistol and pinched the nose of a female guard after refusing to be frisked when she entered an upmarket shopping centre on New Year's Eve.
The tribunal agreed with the guard's account of events.
Ms Baraza was suspended while the investigation was carried out.
"A judge who engages in lawless conduct and thereafter tries to explain it away with misleading testimony should not continue in office," said the tribunal, according to the Reuters news agency.
The BBC's Anne Mawathe in Nairobi says this is being seen as a David versus Goliath case, as many people feel that public institutions generally side with the rich and powerful against ordinary people.
She says the decision might help moves to reform Kenya's judiciary.
The seven-member panel was headed by Tanzania's former Chief Justice Augustino Ramadhani.
Ms Baraza now has 10 days to appeal to the Supreme Court - her lawyer told the BBC that she had not yet decided what to do.
Security has been stepped up in public places across Kenya since it sent troops into neighbouring Somalia last October.
The militant group al-Shabab has threatened to take revenge and there have been numerous grenade attacks in Nairobi and elsewhere.
It is now common practice in Kenya for people to be frisked or be scanned with metal detectors before they are allowed in shops, theatres and even places of prayer.