DR Congo mine collapse: Dozens killed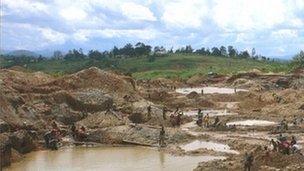 At least 60 miners have been killed after a shaft collapsed in a gold mine in north-eastern Democratic Republic of Congo, officials say.
The miners were about 100m underground when the accident happened in Orientale province on Monday, local media says.
Rescue efforts were hampered as crews had difficulty reaching the mine, which lies in a jungle area where armed groups operate, a local official said.
Such accidents are common in DR Congo, where mines are often unregulated.
Profits from the country's enormous mineral resources are widely seen as helping fuel ethnic conflict in DR Congo, while most of the population remains in poverty.
The collapse took place at Pangoy, 120 kilometres (75 miles) from Mambasa, and involved illegal miners, according to the AFP news agency.
The local government chief told UN-backed Radio Okapi the mine had been recently abandoned after clashes between the army and a local militia group, the news agency reports.