Ethiopian PM Meles Zenawi: Your views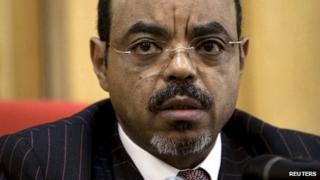 African leaders have gathered in Addis Ababa for the state funeral of Ethiopia's long-serving Prime Minister Meles Zenawi, who died at the age of 57, last month, after weeks of illness.
A government spokesman said Mr Meles had died in a hospital abroad, but did not say exactly where or give details of his ailment.
Here BBC News website readers in Ethiopia share their views on the man who has dominated public life there since the 1990s, as president and then prime minister.
Michele Graffi, Addis Ababa
Ethiopia has lost a great leader! I really want to express my deepest sympathy to our leader Meles Zenawi.
Prime Minister Meles Zenawi has contributed to a "new era" in the Ethiopian and African politics and built an overall "self-esteem" for Ethiopians and Africans.
He was always engaging in ambitious projects that helped to define our future - the future of Ethiopia and Africa as a whole.
I believe Ethiopia, Africa and the world has lost an inspirational leader that little has been told about.
Henok, Addis Ababa
I feel saddened by his death as with any person when they die, but his political legacy for Ethiopia did nothing for the majority and could have been done by any lay person.
He sacrificed the lives of soldiers in East Africa for returns in aid, weapons and cash. I believe unless the existing regime system collapses, there will be no immediate change to come to Ethiopia.
I am hoping his death means the regime will become weaker in the near future. However, dictatorship will be carried on here in the meantime in order to stabilise the existing regime.
Simon, Mekelle
I am traumatised by this dreadful news. There has been so much speculation about his death, when and how it occurred.
In spite of his shortcomings, by far he was the smartest and most far-sighted modern leader Ethiopia has seen.
Above all, this was the right time for him to step away as leader for the political stability of the country. That is what shocks almost everyone about the timing of his death.
I believe there is a handful of people standing by already who want his leadership right now - to run the country during these gloomy days.
Biruk, Addis Ababa
For me it is a sad way to close this interesting chapter in the Ethiopian political struggle. Meles had every chance to change this poor nation and bring in consensus on key national issues, but he spoiled it.
He couldn't even manage to say what he had to say in his post-power period about his interesting journey in life, a chance even the previous ruthless dictator Mengistu is now enjoying.
I fiercely opposed his administration. He had bad records on human rights and bad views towards free press and the establishment of genuine and strong democratic institutions.
However, I have great respect for his economic achievements. I strongly believe he had the potential to transform this country, but spoiled a golden chance. Now we have to sit back and wait to see how things unfold.