Ethiopia funeral held for church patriarch Abune Paulos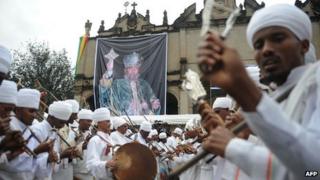 Several thousand people have attended the funeral of the influential head of the Ethiopian Orthodox Church, Abune Paulos, in the capital, Addis Ababa.
After the service, many of the mourners went to view the body of Prime Minister Meles Zenawi which is lying in state at the national palace.
Abune Paulos died last Thursday and Mr Meles four days later, both of undisclosed illnesses.
Mr Meles' funeral will take place on 2 September, the government has said.
The BBC's Noel Mwakugu in Addis Ababa says there were emotional scenes as Ethiopians mourned the loss of two leaders.
PM's succession delayed
Priests dressed in yellow flowing robes and carrying staffs massed at the Holy Trinity cathedral, where the patriarch was buried.
Church choirs from across Ethiopia sang and danced next to the casket, amidst a strong security force presence around the church.
Abune Paulos, who died aged 76, had been the Orthodox Church head since 1992, following the overthrow of the Mengistu Haile Mariam regime.
About half of Ethiopia's population is made up of Orthodox Christians.
His successor has not yet been announced.
The patriarch was a close ally of Mr Meles, who led the rebellion to overthrow the former regime.
Mr Meles' death has sparked concern of instability in Ethiopia, as rival factions compete for power, analysts say.
The country's parliament was due to meet on Thursday to swear in his successor, Deputy Prime Minister Hailemariam Desalegn, who is also the foreign minister.
But on Wednesday, Information Minister Bereket Simon said the ceremony had been postponed because people wanted more time to mourn Mr Meles' death, AP news agency reports.
"What all the lawmakers and their constituencies and the nation at large want to do at this time is mourn the great loss and honour the late prime minister," he is quoted as saying.
"We want to first honour this and handle the prime minister's funeral with due diligence."
Mr Meles, who died aged 57 at a Belgian hospital, had ruled Ethiopia since 1991.
His critics accused him of leading an authoritarian regime that jailed and tortured opponents, but his supporters hailed him as a champion of peace and development.