Libya's tribal clashes in Zlitan leave three dead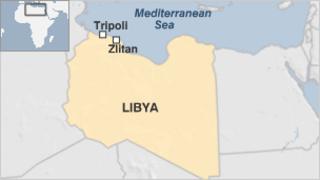 At least three people have been killed in clashes between rival tribes in northern Libya, security officials say.
A number of others were injured in the clashes in Zlitan, 145km (90 miles) south-east of the capital Tripoli.
The clashes were sparked by a dispute between two families from the Haly and Fawatra tribes, Reuters reports.
Libya's new government has struggled to assert its authority across the vast country since last year's ouster of Col Muammar Gaddafi.
Libya remains awash with weapons left over from the uprising against the late strongman.
Earlier reports had put the number of dead at 12.