Somali MPs choose Mohamed Osman Jawari as speaker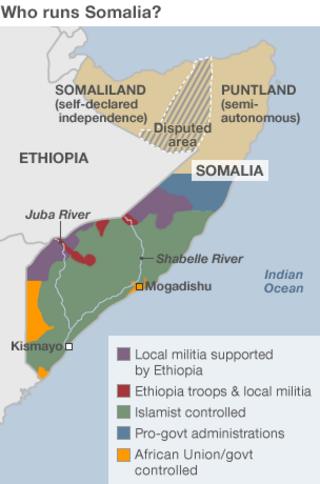 Former minister Mohamed Osman Jawari has been elected as Somalia's speaker of parliament in the latest step in a UN process to end decades of war.
Mr Jawari was chosen by MPs, who were sworn in last week. His rivals all withdrew from the race.
He is from the Rahanweyn clan, meaning outgoing speaker Shariff Hassan Sheik Adan is unlikely to be president when that post is filled in the coming days.
Mr Adan is also from the Rahanweyn clan and power is traditionally shared.
The president is normally from a different clan to the speaker of parliament.
Mr Adan was a bitter rival to outgoing President Sheikh Sharif Sheikh Ahmed.
Mr Jawari, 67, was a minister in the administration of Siad Barre, whose government was the last to control the whole country before it was toppled in 1991.
The BBC Somali Service's Abdirahman Koronto says Mr Jawari gained huge support because he has not been embroiled in the religious and clan-based conflicts that have hit Somalia over the past 21 years.
He is a lawyer by profession who worked for the UN and as an academic in Norway, he says.
More recently, Mr Jawari chaired several committees in Somalia that oversaw the drafting of a new constitution.
"He is an expert who specialised in Sharia and comprehensive law," his personal secretary, Said Mohamed Adow, told the BBC's Somali Service.
Mr Jawari's victory will disqualify Mr Adan from the presidency, as Somalia's power-sharing formula says leaders from different clans must occupy the key posts of parliamentary speaker, prime minister and president, our reporter says.
Mr Ahmed, a moderate Islamist, is one of the front-runners in the presidential race.
Pro-government forces have recently gained ground from the al-Qaeda affiliated group al-Shabab. However, the radical Islamists still control many southern and central areas.