Valerie Amos: World failing on Mali emergency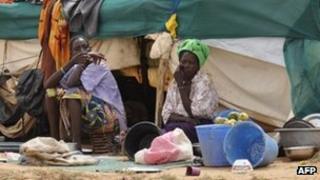 The world has failed to respond to a growing emergency in Mali, where conflict has displaced nearly 500,000 people, a UN official has said.
Valerie Amos, the UN humanitarian chief, called for more funding after an international aid appeal raised only half the money needed.
She is on a three-day visit to Mali to assess the impact of conflict following a coup in March.
Since then, Islamists and Tuareg rebels have captured the north.
The BBC's David Loyn, who is travelling with Baroness Amos, says the three-way conflict has stretched resources to the limit.
Aid delivery efforts in the north have been hampered by fighting, he says.
High prices and low incomes have also caused severe hardship.
A new unity government was formed in the capital, Bamako, at the weekend, promising to spearhead initiatives to end the instability in the north.
Mediators from the West African regional body, the Economic Community of West African States (Ecowas), have held talks with the Islamists.
Ecowas says it will send a 3,000-strong force to Mali if the mediation effort fails to achieve peace.
Islamist groups and Tuareg rebels seized control of the north after President Amadou Toumani Toure was overthrown in the coup.
But the rebel alliance has since ruptured, with Islamist fighters chasing Tuareg separatist groups out of several northern towns and imposing Sharia law.
The Islamists have destroyed ancient shrines in the historic city of Timbuktu, claiming they violated Sharia law and promoted idolatry among Muslims.
The UN warned that the destruction of the shrines could amount to war crimes and the International Criminal Court has launched a preliminary inquiry into alleged atrocities.