Libya court postpones Saif al-Islam Gaddafi trial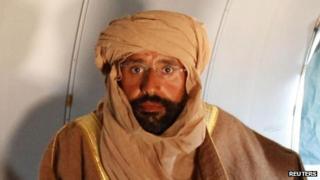 Officials in Libya have said that the trial of ex-leader Muammar Gaddafi's son, Saif al-Islam, has been postponed.
The attorney general's office said the decision was made in the light of the extradition to Libya of Gaddafi's former spy chief, Abdullah al-Senussi.
Saif al-Islam, who became a prominent opponent of the uprising that toppled Gaddafi last year, is also wanted by the International Criminal Court (ICC).
Libyan officials have refused to hand him over to The Hague.
Officials said Mr Senussi, who was extradited from Mauritania on 5 September, could provide more evidence against Saif al-Islam which could be used in his trial.
Proceedings against other former Gaddafi government officials have continued.
The former foreign minister and former head of the parliament were both in court on Monday, facing charges of financial corruption.
Saif al-Islam has been held in Zintan, 170km (130 miles) south-west of Tripoli, since his capture by militiamen last November. The militiamen have demanded Saif al-Islam be tried in Zintan.
Mr Senussi, accused of crimes allegedly committed during Gaddafi's rule, is also wanted by the ICC, as well as France.
Libya has promised both men a fair trial.