Ethiopia acting PM Hailemariam Desalegn heads coalition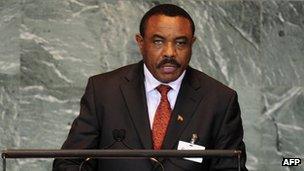 Ethiopia's governing coalition has elected the country's acting Prime Minister Hailemariam Desalegn as its leader.
As chairman of the Ethiopian Peoples' Revolutionary Democratic Front, Mr Hailemariam is likely to also be declared the new prime minister.
Mr Hailemariam took on role of interim leader last month, following the death of the previous prime minister, Meles Zenawi.
He had ruled the country for 21 years.
Officials said at the time that Mr Hailemariam would act as prime minister until the next election, due to be held in 2015.
Ethiopia's communications minister, Bereket Simon, said that since the coalition holds an "overwhelming majority" in government, its chair is "automatically the country's prime minister".
"So Hailemariam will be the country's new prime minister," he said, adding that he would be sworn in soon.
Ethiopia has had only three significant leaders since 1930 - Emperor Haile Selassie, Colonel Mengistu Haile Mariam and Meles Zenawi.
There are international concerns that the political transition may not run smoothly.
Ethiopia saw record growth in the final years of Mr Meles's leadership, but the country lies in a troubled region and has deployed troops in Somalia, to fight Islamist militants.
Brussels-based think tank Crisis Group has previously said Mr Meles's successor will lead a weaker regime facing mounting grievances along ethnic and religious lines and a likely increase in radicalism.