Ex-Elf boss Floch-Prigent extradited to Togo in fraud probe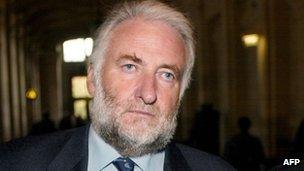 Former French oil chief executive Loik Le Floch-Prigent has been extradited from Ivory Coast to Togo on suspicion of involvement in a massive fraud.
Mr Le Floch-Prigent, the former chief of the Elf firm, was held on Saturday and is due to appear before a judge on Monday for questioning, reports say.
His lawyer in Paris said the charges were politically motivated.
Mr Le Floch-Prigent has served jail terms for corruption in France related to his time as head of Elf in 1989-93.
The 68-year-old was detained on Saturday as part of an investigation into a complaint from a businessman who alleged that he was victim of a $48m (£30m) fraud scheme, according to AFP news agency.
Mr Le Floch-Prigent has served a five-year sentence for embezzling more that $350m of public funds during his reign at Elf.
He currently works as an oil industry consultant, reports say.