Nigeria shootings: 'Boko Haram' kill Borno and Bauchi officials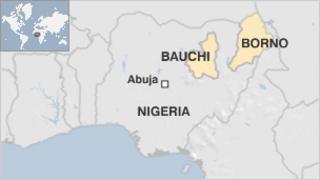 Suspected militants from the Islamist group Boko Haram have killed the attorney general of the north-eastern state of Borno, Nigerian officials say.
Zanna Malam Gana was shot dead in his house in the town of Bama on Monday night, they said.
Gunmen also shot dead Ibrahim Jarmam, the former head of the prison service in neighbouring Bauchi state.
No-one has claimed responsibility, but the deaths came amid reports of the killing of a senior Boko Haram member.
On Monday security forces said they killed a man believed to be the Boko Haram media spokesman who uses the alias Abu Qaqa.
Borno-based Boko Haram has been behind several attacks in central and northern Nigeria, which have killed some 1,400 people.