Nigeria's Arik Air cancels domestic flights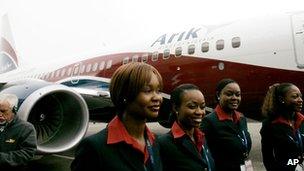 Nigeria's largest airline, Arik Air, says it has cancelled all domestic flights because aviation officials tried to stop passengers flying.
Officials from the Federal Aviation Authority of Nigeria (FAAN) blocked check-in counters and chained doors leading to a boarding gate, Arik Air said.
Hundreds of passengers are stranded in Nigeria's commercial capital, Lagos.
Arik Air has denied reports that it has not been paying fees to FAAN.
Captian Ado Sanusi, director of operations at Arik Air, told the BBC claims that the airline owes FAAN billions of naira in unpaid airport fees are "fictitious".
"We said there's a lot of evidence that we've shown that we've been paying. Passengers know that we've been paying," Sanusi told the BBC's Umar Shehu in Lagos.
"(With) the hostilities we've been receiving, the threats, we can't operate safely," Mr Shehu said, adding that the company had appealed to the Nigerian government to intervene.
At a press conference earlier, the company said it owed money to FAAN, but not as much as the body claimed.
FAAN were not immediately available for comment.
Mr Shehu said all passengers will be refunded the cost of their tickets and transit passengers in Lagos will be offered hotel accommodation.
Related Internet Links
The BBC is not responsible for the content of external sites.