Nigeria's Arik Air to resume domestic flights on Sunday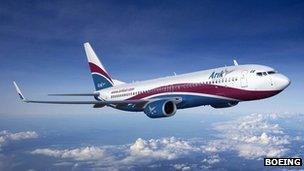 Nigeria's largest airline Arik Air has said it will resume its domestic flights on Sunday.
The airline had cancelled domestic flights on Thursday, accusing aviation officials of trying to stop passengers flying.
Hundreds of passengers were stranded in Nigeria's commercial capital, Lagos.
However, the company issued a statement on Saturday saying meetings had been held with government officials and that the dispute had now been resolved.
On Thursday, Arik Air said officials from the Federal Aviation Authority of Nigeria (FAAN) had blocked check-in counters and chained doors leading to a boarding gate.
The exact cause of the dispute is not clear, but there had been reports that Arik Air owed FAAN unpaid airport fees, which a company spokesman denied.
The airline had also cited government corruption as making conditions impossible to operate in.
However, the company's statement on Saturday said that it was "happy to put what has happened behind us", the AFP news agency reports.
Related Internet Links
The BBC is not responsible for the content of external sites.