Cameroon's Marafa Hamidou Yaya jailed in 'Albatross' case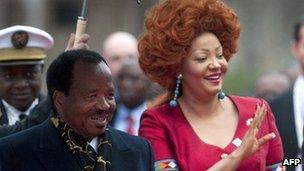 A court in Cameroon has sentenced ex-minister Marafa Hamidou Yaya to 25 years in jail on corruption charges.
He has been found guilty of embezzling millions of dollars intended as a downpayment on a presidential plane.
Three co-defendants, including a former head of now defunct national airline Camair, received the same sentence.
Another senior politician, former PM Ephraim Inoni, is also facing charges in connection with the fraudulent deal to purchase a presidential jet in 2004.
Marafa Hamidou Yaya was then secretary-general of the presidency, and Mr Inoni was his deputy. They were part of a delegation that went to the US to buy a $31m (£20m) jet, the Albatross.
It developed problems on its inaugural flight, and was later found to be an old aircraft with a new coat of paint.
President Paul Biya, his wife Chantal and their children were on board when the pilot was forced to make an emergency landing.
Mr Inoni went on to be prime minister from 2004 to 2009.
Marafa Hamidou Yaya held several senior government positions before holding the powerful interior ministry portfolio. Mr Biya sacked him in December 2011.
He told the court he was "disappointed but not beaten" by the sentence, declaring himself a victim of "slanderous accusations".
Those sentenced on Saturday included former Camair head Yves Michel Fotso.
In May, a former ambassador to the UN, Jerome Mendouga, was jailed for 10 years in connection with the Albatross affair.
Mr Biya - who has been in power since 1982 - was re-elected for a sixth term last October, in a vote that was criticised as fraudulent by critics.
Related Internet Links
The BBC is not responsible for the content of external sites.