Libyan militia in Derna 'to disband'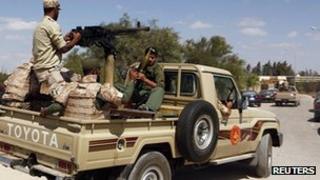 A powerful militia in eastern Libya has announced it will disband, hours after military police and protesters routed militias from the city of Benghazi.
Leaders of the Abu Slim Brigade said the group would dissolve and quit its bases in Derna, east of Benghazi.
Another militia group, Ansar al-Sharia, suspected of a deadly attack on the US consulate in Benghazi, was also reported to be leaving Derna.
On Friday night protesters and police stormed Ansar al-Sharia's headquarters.
In scenes reminiscent of last year's uprising against Col Muammar Gaddafi, they ransacked the group's compound in Benghazi, setting light to buildings and vehicles.
There has been growing hostility towards Libya's Islamist armed groups since the 11 September attack on the US consulate that killed Ambassador Christopher Stevens and three others Americans.
Derna, a port city overlooking the Mediterranean, is regarded as an Islamist stronghold.
Libya's Lana news agency quoted commanders from the Abu Slim Brigade as saying they were dissolving the militia and pulling out of public buildings in Derna.
Abu Slim fighter Abu al-Shalali, 27, said there had been a brief confrontation at one camp between protesters and militiamen but eventually the fighters decided they could not use force against the crowd.
"We can't kill our brothers and our cousins," Mr Shalali said.
One of the protesters, linguistics professor Siraj Shennib, told Reuters that the groups had agreed to hand local security to the interior ministry and army.
"The militia in Derna saw what happened last night [in Benghazi] and they decided: we will not kill our brothers. So they disbanded," he said.
He added that anti-militia protesters had been maintaining a vigil against the groups in Derna for 10 days.
Residents blame the armed groups - a relic of the uprising against Col Gaddafi - for creating a climate of insecurity.
"The people started coming because it has reached the limit. They are saying: we've had enough," he said.
Ansar al-Sharia issued a statement on Saturday, saying it had evacuated its Benghazi bases "to preserve security in the city".
Benghazi deaths
On Friday, protesters also stormed the headquarters of the Sahaty Brigade in Benghazi, which is said to have government backing.
Fighters there opened fire and at least nine people were killed. One other person died in violence elsewhere in the city and scores were injured.
Senior Libyan officials say that while they welcomed the protests, people should differentiate between the rogue militias and honest rebel brigades that helped to secure the town in last year's fighting.
The attack on the US consulate was triggered by an amateur video made in the US which mocks Islam.
Protests against the film have been held across the Muslim world.