Kenya MP Ferdinand Waititu accused of 'hate speech'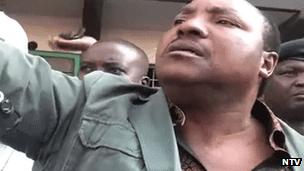 Kenya's director of public prosecutions has ordered the arrest of a deputy minister, for alleged incitement and hate speech against ethnic Maasai.
The order comes after parts of a speech made by MP Ferdinand Waititu were posted on YouTube.
He was reacting to the killing of a street child, allegedly by a Maasai security guard, for stealing a chicken in Nairobi's Kayole suburb.
There are fears politicians may whip up ethnic tensions ahead of March's polls.
In order to prevent a repeat of the deadly violence which followed the 2007 election, the constitution passed two years ago says that any minister charged with an offence must stand down and cannot seek re-election unless acquitted.
Earlier this month, another Kenyan politician was charged with inciting violence that recently claimed more than 100 lives in the south-eastern Tana River area.
Correspondents say Mr Waititu is a fiery politician and has been arrested by police before - for protesting against the demolition of shanty houses in his constituency, but has never been charged.
It is reported that up to three people died in the trouble in Kayole on Monday.
"We don't want to see any Maasai here in Kayole," the video recorded by Kenya's Nation Television shows Mr Waititu saying.
"And to all people who employed Maasai, to sack them with immediate effect."
Keriako Tobiko, the director of public prosecutions, said they had incited violence and "feelings of hatred and hostility against the Maasai community", the Daily Nation newspaper reports.
Internal Security Minister Kato Ole Metito has also called for Mr Waititu's arrest.
Mr Waititu has now apologised after other politicians, including his party leader, Deputy Prime Minister Uhuru Kenyatta, condemned the remarks.
But Maasai leaders, who organised a protest march on Tuesday, say they do not want an apology as it encourages impunity. They want him to be prosecuted.
Allegations of electoral fraud ignited ethnic tensions after the December 2007 poll, leading to the deaths of some 1,300 people and forcing some 600,000 from their homes.
Mr Kenyatta - a son of Kenya's first leader Jomo Kenyatta - is one of four prominent Kenya facing trial at the International Criminal Court (ICC) in connection with the election violence. They all deny the allegations.
Related Internet Links
The BBC is not responsible for the content of external sites.