Equatorial Guinea sues France over corruption inquiry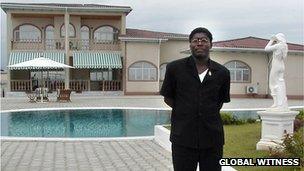 Equatorial Guinea has asked the International Court of Justice to order France to end a corruption inquiry into the oil-rich country's ruling family.
The ICJ confirmed the move, but said France's consent to the court's jurisdiction was required.
In July, Paris issued an arrest warrant for the son of Equatorial Guinea's leader on money-laundering charges.
It also seized Teodorin Nguema Obiang Mangue's mansion in Paris. Mr Obiang denies any wrongdoing.
"The republic of Equatorial Guinea has referred the matter to the world's highest court in order to prohibit any interference by France in the affairs of Equatorial Guinea," Olivier Metzner, a lawyer for the government in Malabo, told the AFP news agency.
He added that the West African country was trying "to compel France to stop all prosecutions and investigations" against senior Guinean officials.
It said the document argued that France's actions "violate the principles of equality between states, non-intervention, sovereignty and respect for immunity from criminal jurisdiction".
But the UN's highest judicial organ stressed that "no action shall be taken in the proceedings unless and until France consents to the court's jurisdiction in this case".
The French authorities have so far not publicly commented on Equatorial Guinea's move.
French judges are currently investigating allegations that Equatorial Guinea's long-serving President Teodoro Obiang Nguema Mbasogo and his son Teodorin, who has been recently promoted to vice-president, have bought assets in France with embezzled state funds.
The French authorities have already seized Teodorin Obiang's Paris villa, thought to be worth between 100m (£79m; $124m) and 150m euros.
The luxury mansion is located on Avenue Foch in one the most prestigious neighbourhoods of the French capital.
Mr Obiang's lawyer has said that any arrest warrant would be a "non-event" because his client has diplomatic immunity.
The French authorities are also investigating Republic of Congo's President Denis Sassou Nguesso, and Omar Bongo, the late president of Gabon.
Correspondents say Teodorin Obiang is known for his lavish lifestyle.
He recently hit the headlines when he honoured his promise to pay his national football team $1m (£641,000) for winning the opening game of the Africa Cup of Nations which Equatorial Guinea co-hosted earlier this year.
In October 2011, the US government said it would seek to recover assets worth more than $70m from Mr Obiang. A month earlier, French police seized some 15 luxury cars belonging to Mr Obiang, including a Maserati, Aston Martin and Rolls Royce.
Equatorial Guinea is one of Africa's largest oil exporters, but most of its population of 720,000 lives in poverty.
President Obiang seized power from his uncle in 1979 and was re-elected in 2009 with 95% of the vote.
Related Internet Links
The BBC is not responsible for the content of external sites.