Nigeria anger over more deportations of Hajj women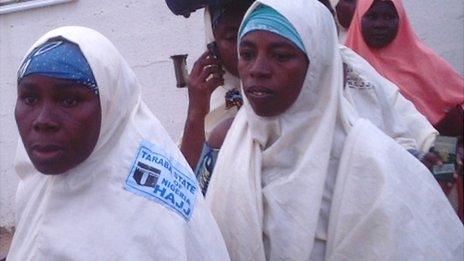 Nigeria is angered by the deportation from Saudi Arabia of more than 40 women going to Mecca for the Hajj, a Nigerian envoy to the country has told the BBC.
They were sent home for allegedly not having a male escort - a requirement for women making the Muslim pilgrimage.
Last week Nigeria suspended Hajj flights over the row which saw more than 1,000 Nigerian women deported.
Flights resumed on Sunday after the Nigerian authorities said they had resolved the administrative problems.
The National Hajj Commission of Nigeria said it had now organised for men to travel on the same flights of the women they were accompanying.
Two men were among a group of about 43 people deported from Jeddah airport on Monday.
They said they were travelling with their wives but as their surnames did not match, immigration officials refused to believe they were married, National Hajj Commission of Nigeria spokesperson Uba Mana told the BBC Hausa Service.
This was also an issue for many of the women who were deported last week - despite the fact that it is a common practice for Muslim women not to take their husband's name.
Others were stopped as the male escort listed on their visa had already arrived or was scheduled to travel later.
Ahmed Umar, Nigeria's envoy to Jeddah, said he was surprised by the latest move and had lodged a protest at the foreign affairs office, where he was going for talks on Tuesday.
An estimated 95,000 Nigerians are expected to make the journey this year - and all pilgrims flying to Saudi Arabia must land by 20 October.
In total more than two million Muslims are due to converge on Mecca for the Hajj, which is set to culminate over a four-day period somewhere between 24-29 October depending on lunar observations.
Related Internet Links
The BBC is not responsible for the content of external sites.