Amnesty accuses Rwanda spies of torture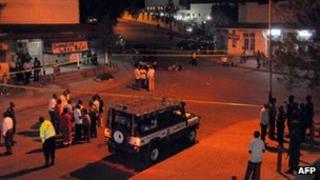 Rwanda's military intelligence has been accused of illegally detaining and torturing scores of people in a report by lobby group Amnesty International.
It says the men were held for between 10 days and nine months without access to lawyers, doctors and family members.
There are credible accounts of serious beatings, electric shocks and sensory deprivation to force confessions, the report says.
The government rejected the report and accused Amnesty of seeking publicity.
The report, Shrouded in Secrecy, says that between March 2010 and June this year it documented 45 cases of unlawful detention and 18 allegations of torture or ill-treatment at two camps and in safe houses in the capital, Kigali by a military intelligence department known as J2.
Most were detained following a series of grenade attacks ahead of the August 2010 elections.
Donors have recently cut aid to Rwanda after the UN accused it of backing rebels operating in neighbouring Democratic Republic of Congo.
"The Rwandan military's human rights record abroad is increasingly scrutinised, but their unlawful detention and torture of civilians in Rwanda is shrouded in secrecy," said Sarah Jackson, Amnesty International's Acting Deputy Africa Director.
Rwanda's Justice Minister Tharcisse Karugarama dismissed the accusations.
"The allegations of torture are a complete fabrication by these individuals," he told the BBC's Newsday programme.
He did admit, however, that after the grenade attacks "the security operatives went into overdrive" and held people for longer than was allowed by the law.
Foreign Minister Louise Mushikiwabo said on her Twitter account on Friday that "Rwanda will act on all credible claims of torture but won't engage in a shouting match with another NGO seeking headlines at Rwanda's expense".
Amnesty says Rwanda has taken some positive steps to combat torture and says the number of new cases has declined over the last year but has not yet fully investigated the allegations.