Greek tanker Orfeas missing in Gulf of Guinea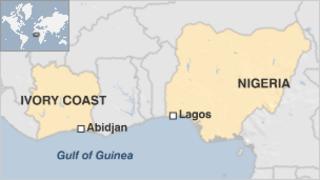 A Greek tanker carrying 32,000 tonnes of gasoline has been reported missing in the Gulf of Guinea, raising fears it may have been hijacked by pirates.
The Orfeas, with a crew of 24, was due to discharge its cargo at the port of Abidjan in the Ivory Coast on Saturday.
Instead it "sailed south without orders or explanation", the Grace Management shipping company said in a statement.
There has been a spate of pirate attacks on cargo ships off the West African coast in recent months.
Last month, Nigeria's navy said it had rescued a Singapore-owned oil tanker hijacked by pirates.
In August, pirates attacked a Greek tanker off the coast of Togo, stealing 3,000 tonnes of fuel.
Armed gangs
In the latest incident, Grace Management confirmed it lost contact with the Orfeas on Saturday morning.
The Bahamas-flagged tanker has a crew of two Greeks and 22 Filipinos.
"The managers have been trying to contact Orfeas continuously, unfortunately without result," the company said.
"Her last known position indicates she may be going towards Lagos, Nigeria."
The firm said it had requested assistance from authorities and neighbouring countries.
The BBC's Will Ross in Lagos says unlike the piracy off the coast of Somalia where hostages are held for ransom, in the Gulf of Guinea the armed gangs are after the cargo which is usually swiftly offloaded.