Liberia laureate Gbowee chides Sirleaf on corruption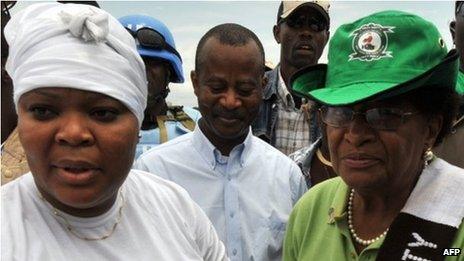 Liberia's president has not done enough to tackle corruption, says her fellow Nobel Peace Prize winner Leymah Gbowee.
Ms Gbowee, a peace activist, shared last year's prize with President Ellen Johnson Sirleaf and Yemen's Tawakul Karman.
She asked why Mrs Sirleaf's sons had been given lucrative jobs and said she was resigning from the reconciliation commission.
Mrs Sirleaf became Africa's first female elected head of state in 2006.
She was re-elected last year - just days after being awarded the Nobel prize.
'History is judging us all'
"I've been through a process of really thinking and reflecting and saying to myself 'you're as bad as being an accomplice for things that are happening in the country if you don't speak up,'" Ms Gbowee told the BBC's Focus on Africa radio programme.
"And when tomorrow history is judging us all let it be known that we spoke up and we didn't just sit down," she said.
In August, President Sirleaf suspended her son, Charles, as central bank deputy governor for failing to declare his assets.
Another son, Fumba, is head of the National Security Agency, while a third, Robert, is a senior adviser and chairman of the state-owned National Oil Company of Liberia (NOCAL).
"This is wrong and I think it is time for her to put him aside," Ms Gbowee said.
"He's a senior economic adviser and that's well and good - but to chair the oil company board - I think it's time he stepped aside," she said.
The BBC's Jonathan Paye-Layleh in Monrovia says Ms Gbowee is not the first person to raise these issues.
But he says her comments come as a surprise to many Liberians as she has previously avoided making public comments about the government.
Ms Gbowee told the BBC that her decision to criticise President Sirleaf's record on corruption is not personal.
"I also want to make it clear that my speaking up against these things does not mean that I hate President Sirleaf or that I am anti her regime," she said.
President Sirleaf won the first elections in Liberia since the end of a 14-year civil war.
But Ms Gbowee also criticised her for not doing enough to ease poverty.
"In her first term she developed infrastructure. But what good is infrastructure if people don't have enough to eat?" she told the AFP news agency in Paris, where she is promoting the French edition of her book Mighty Be Our Powers..
"Development in a land of hungry, angry people is nothing."
"The gap between the rich and poor is growing. You are either rich or dirt poor, there's no middle class," she said.
During Liberia's conflict, Ms Gbowee mobilised women across ethnic and religious lines to campaign for peace and encouraged them to participate in elections.
In 2003 she led a march through the capital, Monrovia, demanding an end to the rape of women by soldiers.
The Nobel Committee said she had "worked to enhance the influence of women in West Africa during and after war".