Congo blasts: Ex-Defence Minister Bowao charged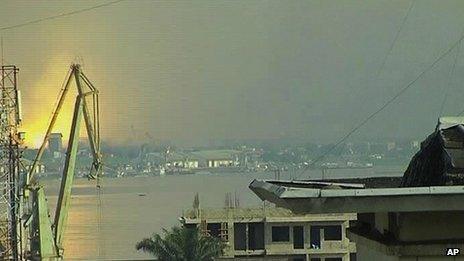 Congo's former defence minister has condemned charges he faces in connection with an ammunition stockpile which exploded in the capital in March.
Charles Zacharie Bowao said the charges were "politically motivated" as the government needed someone to blame.
An estimated 240 people were killed in the blast in Brazzaville and more than 2,300 city residents were injured.
In the aftermath, Mr Bowao - then the defence minister - called it a "minor incident without significant damage".
He lost his cabinet post following a reshuffle last month.
Mr Bowao was then charged last week, but it was not made public until a letter he wrote to the ruling party expressing his anger was leaked.
He said that he was accused of "mishandling, imprudence, inattention and negligence that caused the events of 4 March that led to deaths, injuries and serious property damage" and he intended to challenge the charges, AFP news agency quotes the letter as saying.
The blasts, blamed at the time on a short-circuit that led to a fire, were so powerful windows were blown out and roofs damaged several miles away in Kinshasa, across the river in the Democratic Republic of Congo.
Another 26 people - mostly in the military - have been charged in connection with the explosion and are in detention awaiting trial.
Related Internet Links
The BBC is not responsible for the content of external sites.