Ghana probes death of 'illegal Chinese gold miner'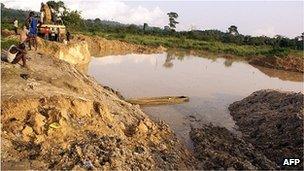 Ghanaian police are investigating the killing of a Chinese boy during a security force crackdown on illegal gold mining, the government has said.
China has protested over the death of the 16-year-old boy in the gold-rich Ashanti region last week.
More than 100 Chinese nationals were arrested during the security force operation against illegal miners.
Many Chinese people have settled in Ghana, Africa's second biggest gold producer.
They have been mechanising the artisanal mining sector, dominated by local people and regarded as illegal by the government and foreign companies, correspondents say.
Ghana's Deputy Foreign Minister Chris Kpodo said he had met the Chinese ambassador to discuss the death of the boy, identified only as Chen, AFP news agency reports.
The death was regrettable and the government has ordered an investigation into the incident, Mr Kpodo said.
"We will also be granting the ambassador a diplomatic access to visit the detainees and speak with them," Mr Kpodo added.
A Chinese diplomat in Ghana said the boy had been shot dead as he tried to flee, AFP reports.
China's People's Daily newspaper said China had protested to the Ghanaian government about the killing.
Ghana is Africa's biggest gold producer after South Africa, producing more than 1.6 million ounces in the first half of this year.
Both foreign companies and artisanal miners are heavily involved in the industry.
Last month, about 30 Chinese miners were deported, Ghanaian officials said, AFP reports.
The government says illegal mining negatively affects the economy and is also dangerous, causing many deaths.
Related Internet Links
The BBC is not responsible for the content of external sites.