Ghana's Jerry Rawlings 'backs' wife's presidential bid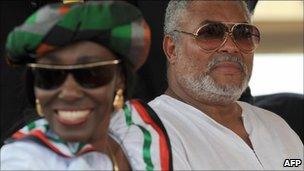 The wife of Ghana's ex-leader Jerry Rawlings has told the BBC he backs her campaign for December's presidential election.
Nana Konadu Rawlings was chosen at the weekend as the presidential candidate of the National Democratic Party (NDP).
She defected from the ruling National Democratic Congress (NDC) party, although Mr Rawlings has not done so.
She could split the vote of NDC candidate President John Dramani Mahama, correspondents say.
The other main challenger in the election is expected to be former Foreign Minister Nana Akufo-Addo, the flagbearer of the New Patriotic Party (NPP).
Mr Rawlings - who ruled Ghana for 18 years and launched the NDC in 1992 - attended the newly formed NDP's congress on Saturday.
"If he didn't believe in what I was doing, he wouldn't have come... I'm not going in a different direction," Mrs Rawlings told the BBC's Focus on Africa programme.
"The family is always in line with the former president's position on probity, accountability and social justice."
The BBC's Sammy Darko in the capital, Accra, says her comments came amid speculation that her candidature could divide the Rawlings home.
On 4 October, Mr Rawlings attended an NDC meeting where President Mahama unveiled the party's election manifesto.
Mrs Rawlings said her husband had lost authority in the NDC and merely fulfilled his "constitutional responsibility" as founder of the party by attending its events.
Some NDC members had used him to rally support during elections and then ditched him, she said.
"The NDC was founded on certain values which they [party leaders] have thrown out of the window so the NDP is taking those values to make sure there is transparency in governance," Mrs Rawlings said.
She said she was running for president because she was worried about worsening corruption and mismanagement, and wanted to be at the "centre" of government so that she could improve the lives of people.
When Mr Rawlings addressed the NDP convention at the weekend, he said the party would "restore hope and the moral values that the country needs to move forward".
At the same event, he also praised Mr Mahama, who became president earlier this year following the death of his predecessor, John Atta Mills.
"Thank God John Mahama has taken over and agreed that he will restore hope in the NDC… Should he win re-election, then we can join hands again," he said.
Our correspondent says NDC leaders are reportedly meeting to discuss Mr Rawlings' presence at the NDP's congress.
There is concern that the NDC could be weakened by Mrs Rawlings' decision to fight the election under the new party's banner, he adds.
Mrs Rawlings challenged Mr Mills last year in a bid to get the NDC's nomination, but gained only 3.1% of the vote.
Related Internet Links
The BBC is not responsible for the content of external sites.