Tanzania arrests after Dar es Salaam churches attacks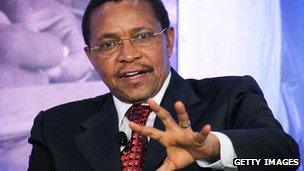 Police in Tanzania have arrested 126 people after last week's attacks on churches in the main city, Dar es Salaam, a police commander has said.
Angry Muslims vandalised and torched five churches after a Christian boy reportedly urinated on a Koran.
President Jakaya Kikwete said the violence was unacceptable, even if the incident angered Muslims.
Tanzania's long history of religious tolerance should not be threatened, he said.
The BBC's Aboubakar Famau in Dar es Salaam says a discussion between the 14-year-old Christian boy and his Muslim friend apparently got out of hand, leading to the attacks on Friday.
The Christian boy was reportedly told by his Muslim friend that he would turn into a snake if he urinated on a Koran, our correspondent says.
The Christian boy then asked for a Koran and, according to reports, urinated on it to test his friend's claim, our correspondent adds.
A Dar es Salaam police commander, Suleiman Kova, told the BBC that 126 people had been arrested over the subsequent attacks.
"We are making every effort to arrest everyone responsible... We want justice to prevail," he said.
Muslim cleric Sheikh Alhadi Musa, who is the chairman of the local Interfaith Committee, condemned the attack on the churches.
He said the Koran had been defiled by one person and it was wrong to assume that it was the stand of all Christians.
Plans were under way to promote dialogue between followers of the two faiths, he said.
"Youth are said to have been largely involved in the violence, so I have sent some youth to talk to their colleagues," Sheikh Musa added.
Mr Kikwete, who visited the churches on Saturday, appealed for calm, Tanzania's Guardian newspaper reports.
He said Christians should not launch retaliatory attacks as this would lead to more conflict.
Related Internet Links
The BBC is not responsible for the content of external sites.