Kenya's Sheikh Mohammed Dor charged over MRC offer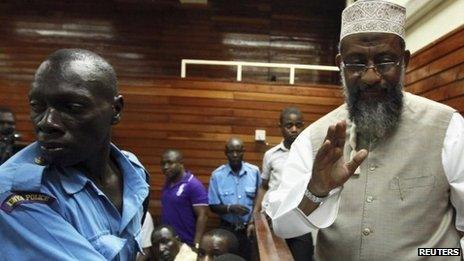 One of Kenya's most prominent Muslim clerics has been charged with inciting violence after allegedly offering to fund a separatist group.
Sheikh Mohammed Dor, who is an MP nominated to represent the Muslim community, denied the charges and was freed on bail.
He is accused of saying he would give money to the Mombasa Republican Council (MRC), which wants independence for Kenya's largely Muslim Coast province.
The MRC leader was arrested on Monday.
Omar Mwamnuadzi was detained during a gunfight at his home, in which two people were killed.
A local Kenyan official was then hacked to death in a retaliatory attack, police say.
Tension has been rising in Kenya ahead of general elections due in March 2013.
There were riots in Mombasa, the main city in Coast province in August, after a Muslim cleric accused of supporting the Somali group al-Shabab was shot dead.
But the BBC's Abdullahi Abdi in Kenya's capital, Nairobi, says there is unlikely to be similar protests over Mr Dor's charges.
Our correspondent says his arrest is not being seen as an attack on Islam unlike the previous case.
In July, Kenya's High Court lifted a ban on the MRC, which the government had outlawed in 2010 after accusing it of being a criminal gang.
However, regional police chief Aggrey Adoli on Monday told the BBC's Focus on Africa programme that despite the court ruling, the group was "still illegal".
The MRC accuses successive governments of marginalising the ethnic groups living along the coast, which is the centre of the country's tourism sector, and giving land to outsiders.
Calls for the secession of the mainly Muslim coastal region tend to intensify in the run-up to general elections, analysts say.
Related Internet Links
The BBC is not responsible for the content of external sites.