Kenya rules courts can try Somali pirates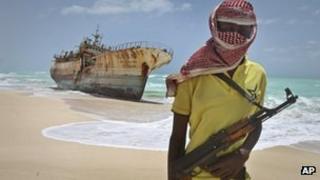 Kenya's Court of Appeal had ruled that the country's courts have jurisdiction to try pirates caught in international waters.
The judges said piracy off the coast of Somalia affected the economies of many nations.
The ruling follows a 2010 Kenyan High Court judgement which said courts could only deal with offences carried out within the country's territory.
Somali piracy has hit shipping routes off the coast of East Africa.
Navies from around the world already operate in the waters of the coast of Somalia, which borders Kenya, to try to stop pirates attacking cargo ships.
But the international community had relied on local countries like Kenya and the Seychelles to prosecute pirates, according to Associated Press.
There have been only isolated cases elsewhere, including in the US.
"Piracy has negative effects on the country's economy and any state, even if not directly affected by piracy must try and punish the offenders," judge David Maraga said after the ruling.
In 2010, a judge terminated the prosecution of nine suspected Somali pirates on the grounds that Kenyan courts did not have the jurisdiction to deal with them and ordered that they be repatriated to Somalia.
Justice Maraga ordered that the men now be transferred to the Kenyan city of Mombasa for their trial to be resumed.
War and instability have wrecked Somalia's economy and justice system, leaving piracy to proliferate off the country's coast in recent years.
In addition to hitting shipping routes, Somali piracy has also damaged Kenya's lucrative tourism industry.