South Africa Gold Fields workers 'end strike'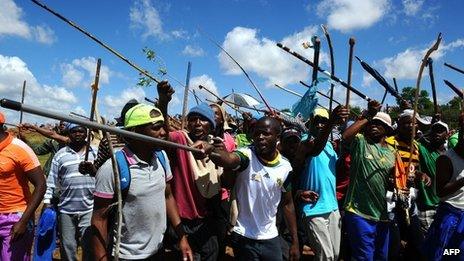 Nearly all the 15,000 South African gold miners who faced dismissal for going on an illegal strike have reported for duty, their company says.
Gold Fields said that only 1,500 miners did not return for work on Thursday and so have lost their jobs.
South Africa's mining sector - one of the world's biggest - has been hit by a wave of unrest recently, which has left almost 50 people dead.
Workers at several other gold mines remain on strike.
The unrest over pay has badly hit South Africa's economy, with the rand losing value and its credit rating downgraded.
In a bid to end the disputes, President Jacob Zuma this week called on workers to return to work and urged company executives to freeze their pay.
Gold Fields says that some 11,000 miners reported for duty on Friday at its KDC West mine.
It says all the 2,800 workers at the Beatrix mine turned up for work on Thursday.
Anglo American Platinum (Amplats) - the world's biggest platinum producer - last week fired 12,000 striking workers.
On Tuesday, police arrested 40 striking workers who had seized equipment worth millions of dollars at Anglo American's Kumba Iron Ore mine in the Northern Cape province.
Mines belonging to AngloGold Ashanti have ceased production for almost a month, while workers at another Gold Fields mine - KDC East - have not yet returned to work but this relates to a local union dispute not wages.
South Africa is one of the most unequal societies in the world, while analysts say some of the unrest is being fuelled by disputes between rival unions.
Some miners say the official National Union of Mineworkers is too close to the governing African National Congress (ANC) and so is no longer standing up for their rights.
Some also link the disputes to December's ANC conference, at which Mr Zuma faces calls for him to be replaced.
Mr Zuma has set up a judicial commission of inquiry into the killings of 44 people at the Marikana mine, 34 of whom were shot by police.
The investigation will determine the roles played by the police, the management of the platinum mine, Lonmin, the unions and government.
Related Internet Links
The BBC is not responsible for the content of external sites.