Somali football stadium: African Union agrees to leave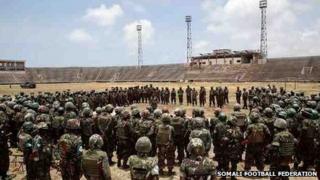 The African Union force in Somalia has said it hopes to vacate its base at the national stadium in Mogadishu in time for a football tournament in December.
Earlier this week, the Somali Football Federation (SFF) said it wanted the venue to be used again for sports.
Mogadishu Stadium was occupied by militia when the civil war began in 1991 and has been a base for various armed groups ever since.
An AU spokesman told the BBC the move was a testament to improving security.
The AU force and Somali government army drove the al-Qaeda-aligned al-Shabab group from the capital in August 2011.
Correspondents say although there are still occasional attacks since the militants withdrew, people have been reconstructing shattered buildings across the battle-scarred city.
There has also been progress on the political front with the election by MPs of a new president last month.
AU force spokesman Col Ali Hamud told the BBC Somali service that the request from the SFF was a normal development.
Some public buildings and areas have had to be used by the AU force - which has been based in the city since 2007 - for security reasons, he said.
"Now the time has come to leave those infrastructures to the youth," Col Hamud said.
Unless "technical issues" came up, the AU should have enough time to prepare to move elsewhere by December, the colonel said.
Analysts say the stadium, an impressive sports complex when it was built by the Chinese in the 1970s, is important strategically for controlling the north of the city.
Occasional matches have been played at the Mogadishu Stadium over the years, however it has always been in the hands of an armed group.
Al-Shabab, which has banned the playing and watching of football in its territory, has lost all the major towns it once controlled over the last few months.
But the militants still controls large areas of southern and central Somalia.