Mozambique town transformed by coal rush
By Julian Keane
BBC World Service, Tete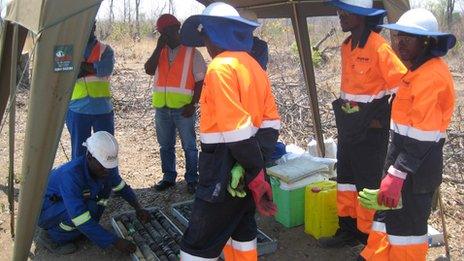 Just two hours' flight north of Maputo, the capital of Mozambique, a new rush is under way. It's a rush for resources, a rush for money, a rush for a new life.
And at the heart of it all is the unlikeliest of boom towns.
A few years ago, Tete was a sleepy, dusty backwater. Nestled on the banks of the Zambezi River, the town was a place for truckers to stop overnight as they made their way to and from Malawi and Zimbabwe.
For many people, there was no good reason to spend more than 24 hours in Tete.
But everything has changed. Thousands of people have headed to the town, tripling its population.
It is due to the discovery of what is believed to be the most valuable reserves of coal to have been found anywhere in the world in the past 50 years.
Isaac Muchenje, 34, arrived in Tete six years ago on the lookout to make a career. He has witnessed this rush for coal and the impact it has had on the town.
Mr Muchenje works as the environmental and social development manager for the Ncondezi Coal company, a Mozambican subsidiary, with a head office in London.
"When I first came here things were slow and there was little activity. Since then there's been a boom in development.
"There are more cars in the streets, more houses, more hotels, more banks. We've now got trains coming from the port city of Beira; that's something we didn't have six years ago," he says.
But he admits that living in Tete is a challenge, not least because of the heat - it's not rare for temperatures to reach 50C. New arrivals find it hard to adapt, he adds.
After four years exploring the area, Ncondezi is focused on moving to the next stage: open cast mining.
The company believes that its concession could amount to more than four billion tonnes of coal.
Ncondezi is not alone - some of the world's biggest multinational mining companies are already pumping billions of dollars into the area and opening up large areas of land.
Consequently, Tete has now become a magnet for workers not only from all over Mozambique but also from abroad.
There are engineers from South Africa, accountants from Brazil, contractors from Zimbabwe, miners from Tanzania.
The town has suddenly become an international land of opportunity, its growth driven by Chinese, Indian and Brazilian demand for raw materials.
'Involuntary displacement'
Just off Tete's main avenue, three mine workers sit on a bench in the shade which offers some small respite from the heat.
All three come from other parts of Mozambique.
They prefer not to give either their names or the company they work for: well-paid jobs are a precious commodity, and they are anxious not to say anything that might jeopardise their employment.
But all three are keen to get one message across: working in the mines may be hard, the heat and the dust may be a problem, but the job helps provide for their families.
One of them adds: "Tete offered me an opportunity which I seized with both hands."
But for some, this new found coal wealth comes at a price.
As the mining companies move in, communities in coal-rich areas have to move out.
It's called "involuntary displacement". It's a three-way process involving discussions between the mining companies, the government and the village elders.
It's what could soon happen to a remote community of about 75 people in the village of Thondue.
It's a smattering of small wood and mud huts, about an hour's drive from Tete in a harsh arid environment.
There is no electricity or water supply and the nearest school is a five-kilometre (three miles) walk.
In the village there is a granary, which should be used for storing enough maize to allow the villagers to see through the lean months, until the next rainy season.
But it has been a bad year - the granary is empty.
Longer term, the village faces an uncertain future.
When mining gets under way here, Thondue will disappear; the villagers will be relocated elsewhere.
Coal and the revenue it brings is the priority, Mr Muchenje says. Although he adds that their new home will offer far more amenities.
Francisco Purare, 42, is a colleague of Mr Muchenje. He's Ncondezi's HR manager and has been living in Tete since 2006.
He got married here and looks ahead to the coming years with optimism.
"I have three children," he explains. "They're all in a private school. It's because of what I earn in Tete that I can afford to pay for their studies. My wife is also at university.
"I'm an example of what is happening here; it's a life changer. I hope that, in the future, my children will work here and contribute to Tete's development."
Meanwhile, people continue to fly into Tete at an increasing rate.
They might soon step into a brand new arrivals lounge. There's talk that the current airport might have to be demolished and rebuilt elsewhere.
Apparently, there is coal under the runway.
Julian Keane broadcast live from Tete on Monday on the BBC World Service's Newsday programme. There is coverage all this week on the World Service, looking at Africa's natural resources, with further programmes from Madagascar, Malawi and Ethiopia.
Related Internet Links
The BBC is not responsible for the content of external sites.