Mauritania soldier on shooting President Abdelaziz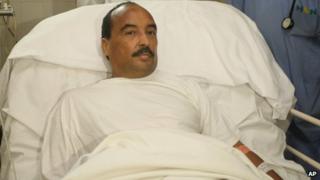 A Mauritanian army soldier who is said to have shot and wounded the president by accident has appeared on state television to explain what happened.
Lt Elhaj Ould Hamoudi had been guarding his base in Tweila, north of the capital Nouakchott, on 13 October when the shooting happened.
He said he had been alarmed by "suspicious cars" approaching, and opened fire when they failed to stop.
President Mohamed Ould Abdelaziz was shot in the arm.
He underwent an operation in Nouakchott, and appeared on television from his hospital bed to say he was OK, before being flown to France for further treatment.
'Opened fire'
Lt Hamoudi said he saw vehicles approaching the base at about 20:00, and got into what he called a "civilian vehicle", not dressed in full uniform, to drive out to meet them.
"At 25m from them, I stopped and indicated that they should stop. The vehicle slowed down and I studied the people aboard, who were wearing turbans," he told Mauritanian television.
"I found them suspicious, indicated that they should get out under the threat of my weapon, but the vehicle drove past me and sped up. Then I took up my position and opened fire on them."
He said he was relieved that his version of events had been accepted, and the army would not be taking further action against him.
The president had been travelling overnight to return to the capital for the start of the working week, which begins on Sunday in Mauritania.
Mauritanian radio initially reported that he had escaped an assassination attempt.
But many Nouakchott inhabitants would believe the "shot by mistake" claims as they are used to seeing the president walk in the city, play sport and drive his car without guards, BBC Arabic's Mohammad Taha said at the time.
President Abdelaziz came to power in a military coup in 2008 in the West African nation. He won presidential elections a year later held under an agreement with opponents of the coup.
Coups and coup attempts are almost a normal part of life in Mauritania, with three in the last 10 years, our correspondent says.
The military has been involved in nearly every government since the country became independent from France in 1960.
The current president is seen by the West as a bulwark against Islamists in the region, particularly in neighbouring Mali.
Mauritania launched a joint military operation with Mali last year against the bases of Islamist militants in Mali before a rebellion in that country this year split it in two and hardline Islamists occupied the the country's vast northern region.