Benin President Yayi: Three arrested 'over poison plot'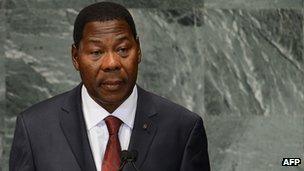 Three people have been arrested over an alleged plot to poison Benin's head of state Thomas Boni Yayi, officials say.
The suspects include one of the president's nieces, his personal doctor and an ex-minister, public prosecutor Justin Gbenameto told reporters.
He said those detained faced charges of criminal conspiracy and attempted assassination of the West African leader.
Mr Yayi, a former banker, took office in 2006 and chairs the African Union.
The arrests were made on Sunday.
Prosecutors have named the suspects as Benin's former minister of commerce, Moudjaidou Soumanou, Dr Ibrahim Mama Cisse, and Zouberath Kora-Seke, one of the president's nieces who allegedly worked at his residence.
Authorities said they also intended to issue an arrest warrant for businessman Patrice Talon, a former ally of Mr Yayi who fell out with the leader.
Suspicion was aroused when the president showed signs of weakness and started vomiting, the BBC's Vincent Nnanna, in the Beninese city of Cotonou, reports.
"Thankfully, the plot was not successful," Mr Gbenameto said.
"Zouberath spoke about it with her sister and others, and it was those people who warned the head of state."
He added that prosecutors "have requested [the suspects'] indictment for criminal conspiracy and attempted assassination".
Mr Yayi won presidential elections in March 2006 and again in 2011.
He had quit his job as president of the Togo-based West African Development Bank, where he had worked since 1994, to run for president.
In 2007, he survived an ambush by gunmen who attacked his convoy during an election campaign tour.