Kenyan champion Ezekiel Kemboi's assault charge dropped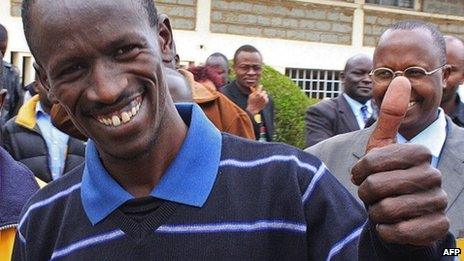 Assault charges against Kenya's Olympic and world 3,000m steeplechase champion Ezekiel Kemboi have been dropped.
Anne Njeri Otieno had alleged that the athlete attacked her when she declined his sexual advances in June.
But before the case was due to open, Ms Njeri Otieno told the court in the western town of Eldoret that she had decided to withdraw the charges.
Mr Kemboi, who is a serving police officer, has always denied the accusations.
A magistrate had granted the 30-year-old athlete bail in June and allowed him to travel to compete in the London 2012 Games, where he won his second Olympic gold medal.
Ms Njeri Otieno told journalists on Tuesday that she had decided not to continue with the case as she wanted to focus on her career.
"I want to go back to university to pursue journalism and I have forgiven Kemboi out of my own free will," Reuters news agency quotes her as saying outside court.
"I have not been compensated whatsoever but I've just decided to forgive him."
According to Kenya's East Africa's Standard newspaper, the development seemed to catch Mr Kemboi unawares as he had pensively sat waiting in court for his case to be called.
Mr Kemboi's lawyer said afterwards it was Ms Njeri Otieno's personal decision to withdraw the charges.
"She had experienced a lot of suffering to herself and her family, who had felt ostracised from the community after bringing up the case against their track hero," AFP news agency quotes lawyer Michael Chemwok as saying.
The day after the incident on Wednesday 27 June, Mr Kemboi alleged Ms Njeri Otieno had colluded with a gang to rob him at night and had been stabbed in the skirmish.