Malawi boxing promoter held over student death inquiry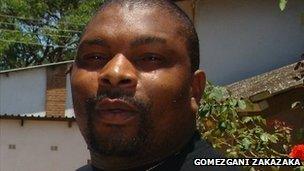 Prominent Malawian boxing promoter Mike Chitenje has been arrested over the death of student activist Robert Chasowa last year, police have said.
The arrest comes after a judge-led inquiry found that Mr Chasowa had been killed, despite police claiming at the time that he had committed suicide.
Mr Chitenje, a member of the late president's party, was arrested with 12 others, most of them also DPP members.
Mr Chasowa had published anti-government pamphlets before his death.
Police spokesman Kelvin Maigwa confirmed the arrests.
"The operation is on-going," he said.
President Joyce Banda, who succeeded Bingu wa Mutharika after his death earlier this year, promised to bring Mr Chasowa's killers to justice after a commission of inquiry, led by Supreme Court of Appeal Judge Andrew Nyirenda, ruled that he had been murdered.
Mr Chasowa, the 25-year-old chairman of a student activist group, Youth for Democracy (YFD), was found dead at a polytechnic campus in the commercial capital, Blantyre, in September 2011.
The BBC's Raphael Tenthani in Blantyre says all the people who were arrested in the pre-dawn raids on Wednesday were implicated by the commission.
Among those arrested is a police officer, Stanford Horea; the rest are members of the Democratic Progressive Party (DPP), which Mr Mutharika led before he died of a cardiac arrest in April.
The DPP members include southern region governor Noel Masangwi and Lewis Ngaland, the party's director of youth.
Mr Chitenje, who is also a party member, is the promoter of Malawian pugilist Agnes Mtimaukanena, who this year won World Boxing Forum's Africa title in the female lightweight division after knocking down Kenya's Suzan Anderson.
When Mr Chasowa died, police produced two alleged suicide notes and a post-mortem report to buttress their claim that he had taken his own life.
But pathologist Charles Dzamalala, who conducted the autopsy, contradicted them and reported that Mr Chasowa had been bludgeoned to death, our correspondent says.
The inquiry heard that police recruited Mr Chasowa and his YFD group to infiltrate the organisers of mass demonstrations against Mr Mutharika's government last year, our reporter says.
In exchange, police promised the group more than $30,000 (£18,700), but reneged on the deal, according to evidence before the inquiry, he says.
The inquiry also heard that Mr Chasowa then threatened to reveal the DPP's "dirty deals" and published anti-government leaflets until his death.
At least 19 people were killed after Mr Mutharika ordered the police and military to end the protests, triggered by the rising cost of living.
Related Internet Links
The BBC is not responsible for the content of external sites.