Is the world ready to take on Mali's Islamists?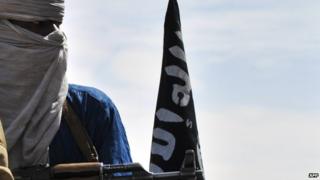 Reports of jihadist fighters from Sudan and Western Sahara arriving to reinforce the radical Islamist rebels controlling northern Mali will add new urgency to international debates over military intervention to help the government restore its authority and reunite the country.
Preparations for the deployment of a 3,300-strong West African force, supported by France and other Western powers, have accelerated over the past few weeks.
The United Nations Security Council has given a 45-day deadline for the Economic Community of West African States (Ecowas) and the African Union to submit a detailed and costed plan.
With just over a month to go, a lot of hard arguing still lies ahead before plans can turn into reality.
No-one is under any illusion that the restoration of government authority over northern Mali - a France-sized chunk of the Sahara Desert - will be easy.
Although international opinion now appears to be coalescing around the view that military action will be unavoidable, there are wide differences of view over the details and the risks.
But Ecowas envisages a phased approach, concentrating initially on security in the government-controlled south, retraining the Malian army and protecting refugees and villagers.
There will be no rush to attack big rebel-held towns such as Timbuktu and Gao.
The hope is that the presence of the intervention force on the ground in Mali will persuade the local element of the Islamist factions to negotiate.
But Ecowas and its Western allies believe that, ultimately, military action will be needed to tackle the most hardline foreign-led jihadists.
New French relationship
Last week, diplomats and military strategists gathered in Bamako to discuss proposals with the African Union joining the calls for action.
The domestic Malian political context has also become more favourable, with street demonstrators opposed to the deployment of foreign troops far outnumbered by those who want their country to accept the offer of outside help.
France and the US are expected to provide intelligence and logistical support for the later phase of the operation; this week brought reports that Paris is deploying surveillance drones to monitor conditions in northern Mali.
At the UN, it is France, under new President Francois Hollande and Foreign Minister Laurent Fabius, that has led the diplomatic campaign in favour of Ecowas intervention.
Mr Hollande fears jihadist rebels such as al-Qaeda in the Islamic Maghreb (Aqim) could transform northern Mali and the wider Sahel region into a safe haven for radical militants, who could then go on to mount operations outside, in Africa and in Europe.
"It is in leaving Aqim… free to flourish in the Sahel that I would be taking risks with my country," he said recently.
For Mr Hollande, the crisis is also the occasion to demonstrate his new partnership approach to Africa - in contrast to the often arrogant style of his predecessor Nicolas Sarkozy.
He insists France will follow the lead set by the countries of the region. Paris is backing Ecowas's twin-track strategy of negotiating with those rebel groups willing to talk, while planning for a military intervention, should this prove necessary.
While the French have promised training and logistical support, they are determined to avoid any return to their contentious post-colonial role as Africa's gendarme.
Other Western countries were initially more cautious about military action, particularly when the initial proposals that Ecowas put forward to the UN lacked convincing technical detail.
However, despite earlier doubts, the US now seems to have swung behind the plan.
Western nations have also come round to the view that intervention may be the least bad option: EU foreign ministers have now offered to send expert trainers to help rebuild the Malian army.
Hard questions
Reports emanating from jihadist-controlled towns such as Timbuktu and Gao talk of rebels recruiting local children as fighters, imposing brutal punishments in the name of a fundamentalist interpretation of Sharia and attracting militant allies from North Africa, the Middle East and Nigeria.
With bellicose threats to hit back if outsiders intervene, there is nothing to suggest the foreign leaders of Islamist groups will slacken their hold unless forced to do so.
By contrast, there are signs that a political deal might be brokered with local Malian rebel leaders.
The secular Tuareg rebels of the National Movement for the Liberation of Azawad (MNLA) have told the Ecowas mediator - Burkina Faso's President Blaise Compaore - they could settle for autonomy, rather than the full independence they had previously demanded.
And Iyad Ag Ghaly, leader of the local Tuareg Islamist faction Ansar Dine, has held secret talks with the government, hosted by Algeria.
If a deal can be reached with these factions, the task of restoring Malian government authority over the north would be less daunting.
Even so, some key players are still asking hard questions.
Ecowas has a strong sense of West African regional identity and a track record of political co-operation on crises; it has experience of deploying regional intervention forces in Liberia and Sierra Leone.
West African presidents have therefore been bullish in pressing forward with the Mali intervention plan, under the leadership of Ivorian President Alassane Ouattara, current holder of Ecowas's rotating chairmanship.
However, many of their military commanders are more cautious, privately expressing deep concerns over the prospects for success.
Commitments from potential troop-contributing countries still have to be firmed up.
And within the Malian army itself, there is a reluctance to be seen as over reliant on outside help, so the practicalities of the working partnership between the Ecowas force and the Malians still has to be clarified.
Algerian angst
Algeria, Mali's northern neighbour and the Sahara's greatest military power, has been deeply wary of outside intervention in the crisis, fearing it could mark a reassertion of French influence in the Sahel.
But Mr Hollande has sought to reassure his Algerian counterpart, Abdelaziz Bouteflika, that France has no such ambitions and Paris sources believe the Algerians may now have become reconciled to the prospect of international action in Mali.
Moreover, the Algerians have been angered by the jihadist murder of an Algerian hostage, one of seven personnel from the country's consulate in Gao, seized when the town fell to the rebel forces.
Also, Mr Bouteflika is always keen to maintain Algerian influence south of the Sahara. He may not want to be perceived as obstructing a wider African determination to take action in Mali.
As the political pieces slot into place, the focus may now shift on to the detailed military planning.
Success will largely depend on showing realism about what an Ecowas force can achieve - and what it cannot.
Troops from countries with experience of peacekeeping or interventions elsewhere - such as Senegal or Nigeria - should be able to demonstrate the organisation and self-discipline and Mali's own forces lost earlier this year.
So they could play a valuable initial role in protecting the northern-most zones still under government control, around the town of Mopti, providing security for the care of refugees and delivery of basic services such as health and education.
And gradually a retrained Malian army should play a bigger role.
Offensive operations to recover Timbuktu and Gao from rebel control would be a tougher ask, especially if the rebels choose to fight in these towns themselves.
So the government will first try to regain authority over these cities through negotiation rather than warfare.
After that, pursuing hardline rebels in the Sahara will be a longer-term challenge of a quite different nature, heavily dependent on Western intelligence support for success.