Albino models setting the trend for Africa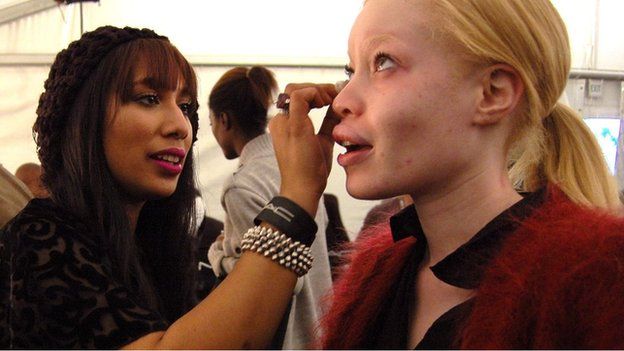 Backstage amidst the chaos of Africa Fashion Week in the South African city of Johannesburg one woman sits quietly in a corner.
Other models and designers from across the continent dash from one end of the tent to the other - there seems to be an unofficial competition to see who can make the most noise.
Yet despite her silence, US albino supermodel Diandra Forrest is still the most noticeable person in the room.
With a complete lack of pigment in her hair or skin, the New Yorker who grew up in the city's mainly black Bronx community is used to sticking out a mile.
Around one person in 17,000 is born with the genetic disorder, which can also cause blindness.
But she knows that her presence at Africa Fashion Week has a much greater significance than just challenging ideas of what is beautiful.
In some African countries, particularly in East Africa, people with albinism are at risk of abduction and mutilation, as their body parts are believed by some to make potions and rituals more powerful.
"It matters a lot to me to be here, because I want to change the way people see girls with albinism on the continent," she told the BBC.
"I thought I had it so tough when I was growing up, with kids making fun of me all the time. I used to come home in tears," she recalls.
"But that's nothing compared to what people like me go through here, particularly in rural areas.
"When I found out that in countries like Tanzania, albino people like me are at risk of having their limbs cut off for the trade in body parts I was just so shocked.
"People just like me live in fear every day of their lives. It's terrible."
But when it comes to international catwalks, Ms Forrest is setting a trend.
Like others in the fashion world, British-based South African designer Jacob Kimmie was smitten when he saw Ms Forrest.
"She looks so other worldly, I had to have her in the show," he says.
"At the moment using an albino model is very hot right now, it's true.
"But hopefully the impact of using people who look very different, is that it inspires a longer term change."
Refilwe Modiselle, a South African model with albinism who grew up in Soweto, agrees.
Modelling since the age of 13, she is now the face of the South African fashion chain Legit and tells me albinism used to be viewed negatively but is now becoming more "mainstream".
"I really feel that the work Diandra and I are doing is the beginning of a real change," she says.
But in Kwazulu Natal, a day's drive from the Africa Fashion Week catwalk, an albino schoolboy has been missing for over a year after his abduction.
His family fear it is linked to witchcraft.
Most recently in Meru, Tanzania, the body of an albino man estimated to be in his 30s, was discovered in June with several of his body parts missing.
The body parts are used in witchcraft medicines or buried underneath businesses in the belief that they bring prosperity.
So can a model on a catwalk really make a difference?
Peter Ash, the author of a 2012 report commissioned by the UN on albinism, says it can.
"The more positive portrayals of people with albinism the better; it really helps."
"The main problem we find is that there is an underlying acceptance of violence against people with albinism, because they are seen as sub-human, a representation of the devil, or carriers of a curse," he says.
"So it's crucial that African society starts seeing positive role models to be able to change thinking like that."
Quoted in the UN report, the non-governmental organisation Under the Same Sun estimated that around 71 people with albinism were killed in Tanzania between 2006 and 2012, and 31 survived machete attacks.
Seventeen albinos were murdered in Burundi, seven in Kenya seven and three in Swaziland.
The cases are often not properly reported or investigated, says Nomasonto Mazibuko from the Society for Albinism in South Africa.
But she says that change has got to come from within the continent:
"The crucial point is that people don't take people with albinism as actual human beings. It is up to us in Africa to talk about this and make inroads against prejudice."
Her voice rises with passion as we talk: 'We cannot be quiet, we cannot stay hidden.
"And any girl with albinism who is walking on an international catwalk or even the street with her head held high is a much needed role model."
Ms Modiselle hopes she can be that catalyst for inspiration for the often racially divided society in South Africa and the continent as a whole.
"I'm the symbol of racial unity. I'm a black girl who lives in the skin of a white person and that alone should embody what a human being as a whole should represent," she told the BBC.
"I'd like to be known as a model, and for all my other achievements, not for being albino."
Related Internet Links
The BBC is not responsible for the content of external sites.