Kenya: Kisumu anger after politician Kwega killed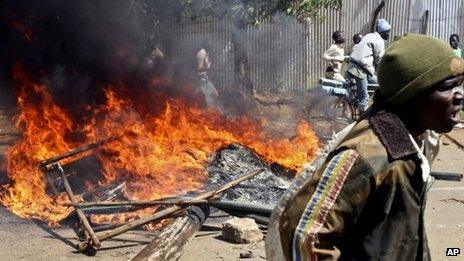 Kenyan politician Shem Kwega has been killed and his wife wounded in a drive-by shooting in the western city of Kisumu.
Mr Kwega was a close ally of Prime Minister Raila Odinga, who is running for the presidency, reports the BBC's Karen Allen from the capital, Nairobi.
Police later fired teargas to disperse protesters who claimed he had been assassinated, our reporter says.
Tension has been mounting in Kenya ahead of elections due in March.
More than 1,000 people were killed in violence that hit Kenya after the 2007 disputed presidential election.
Last week, International Criminal Court (ICC) chief prosecutor Fatou Bansouda expressed concern about a culture of violence in Kenya during a visit to the country.
The ICC has indicted several Kenyan politicians - including Deputy Prime Minister and presidential aspirant Uhuru Kenyatta - for allegedly fuelling ethnic conflict after the 2007 election.
Mr Kwega and his wife were shot by assailants on a motorbike, our reporter says.
Mr Kwega was a prominent businessman who was running for the Kisumu Central parliamentary seat under the banner of Mr Odinga's Orange Democratic Movement (ODM).
"His killing by unknown assailants this morning outside Mamba Hotel in Kisumu is a big blow to the party," the ODM said in a statement.
Although robbery has not been ruled out, his supporters believe he was assassinated, our correspondent says.
Police in Kisumu fired teargas to disperse them as they demonstrated against his killing by burning barricades and marching in the city.
One person was reportedly shot during the protest, our reporter says.
Related Internet Links
The BBC is not responsible for the content of external sites.