Ivory Coast's Laurent Gbagbo fit for Hague trial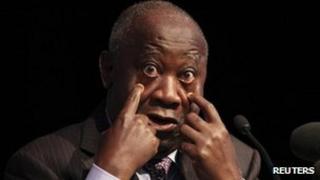 The International Criminal Court in The Hague has ruled that the former head of state of the Ivory Coast, Laurent Gbagbo, is fit to stand trial.
He faces four charges of crimes against humanity, including murder and rape, in the wake of Ivory Coast's disputed presidential elections in 2010.
Some 3,000 people were killed in violence after Mr Gbagbo refused to accept defeat in the polls.
The 67-year-old has denied responsibility for the violence.
He accuses former colonial power France of plotting to topple him from power in the world's biggest cocoa producer.
The court ruled that some practical adjustments could be made in order to enable Laurent Gbagbo to participate in the hearing, including shorter court sessions and facilities for him to rest during breaks.
In a statement, the ICC said the judges would soon set a date for the confirmation of charges hearing in the case.
The ICC began operating in 2002 to bring to justice those responsible for crimes against humanity and war crimes committed in countries that accept its jurisdiction, or when the UN Security Council refers a case to it.